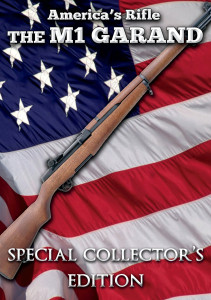 This film is no longer available through Soundview. In-home/personal use copies are available on Amazon: http://amzn.to/1Uk39qe
This feature length documentary covers in-depth the history of the M1 rifle that served the US armed forces from 1936 to 1957 and beyond. It was the standard issue infantry rifle of WWII and it was a masterwork of genius and simplicity.
Called "the M1" by fighting men, both friend and foe also referred to it by its inventor's name… The Garand.
The M1 was one of the most mass produced rifles in American history with over 5.5 million made. It weighed 9.5 lbs.
The film combines rare archival footage with first person accounts by combat veterans, and features state-of-the-art animation as well as expert interviews to give a comprehensive perspective on one of history's most successful infantry weapons.
140 minutes on 1 disc
Bonus material includes:
Expanded interview with Medal of Honor recipient Hector Caffarata
Assembly and disassembly of the M1
An historical 'show and tell' of the M1 bullet
An inert rifle grenade demonstration
M1 Garand Range Time
140 minutes on 1 disc
WATCH THE TRAILER

America's Rifle – The M1 Garand – TRAILER from Anchor Media Group on Vimeo.