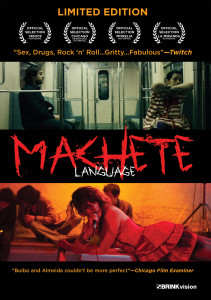 "A Cross Between 'Sid and Nancy' and 'Day Night Day Night' With The Punk DIY Aesthetic… It's Hard to Look Away" – Reeling Review
A rebellious punk rock girl and a revolutionary activist man find themselves together in Kyzza Terrazas' directorial debut which premiered at the 68th Venice Film Festival.
Ray (Andres Almeida), a political activist, and Ramona (Jessy Bulbo), a punk singer, are furious about inequality and social injustice. Together they try to advocate for a better world. Pushed over the edge by the violent repression in Salvador Atenco, they feel increasingly drawn to commit a terrorist act in the name of their political beliefs and their love.
Stars Mexico Musician Jessy Bulbo (191,000 FB likes) and Andres Almeida from Y Tu Mamá También
"Machete Language is a gritty film with a message. These are young rebels, out standing up for their beliefs. They're trying to fix a broken system the only way they no how. Watching this movie it should come as no surprise that both Diego Luna and Gael Garcia Bernal serve as executive producers. This is exactly the type of film these two wonderful actors have been known to star in. This is the type of movie that will leave folks divided, but what can you expect? If a movie is going to take a strong political or social stance, it has no chocie but to divide." – Dark of the Matinee
"Bulbo & Almeida Couldn't Be More Perfect" – Chicago Film Examiner
Official Selection at
Venice Film Festival
Mar del Plata Film Festival
Morelia Film Festival
histler Film Festival
East End Film Festival
Chicago International Film Festival
78 minutes on 1 disc / Spanish with English subtitles / Prod. Yr. 2012
HOW TO ORDER:
Public Performance and Digital Site Licenses are available through Soundview Media Partners. To inquire or to place an order, write to info@soundviewmediapartners.com or simply choose from the options below:
For group screening prices, please inquire.
In-home/personal use copies are available on Amazon: http://amzn.to/2fu1G0g
Watch the trailer