MAMA DONI BIBLE STORIES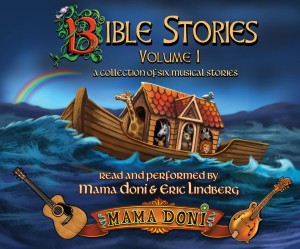 Read and performed by Doni Zasloff (Mama Doni) & Eric Lindberg / Executive Produced by Dan Gurlitz
Three-time Parents Choice® award winner Doni Zasloff (Mama Doni) brings to life classic stories from the Bible in this exciting audio presentation that features an original music soundtrack specially developed for the project by Mama Doni and Eric Lindberg.
A nationally recognized children's singer and performer, Mama Doni's contemporary music and storytelling brings a new multi-dimensional style to some of the most notable bible stories.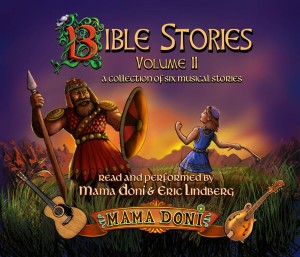 Volume I includes In The Beginning, Adam And Eve, Noah's Ark, Joseph And The Coat Of Many Colors, Queen Esther, and as bonus material it features The Miracle Of Hanukkah (Story from the Book Of Maccabees) and bonus songs (music and lyrics by Doni Zasloff & Eric Lindberg): Hanukkah Oh Hanukkah, Eight & Hine Mah Tov.
Volume II includes The Story of Passover, Jonah and The Big Fish, The Story of Ruth, and more. Additional bonus material includes two more original songs performed by Mama Doni and Eric Lindberg.
HERE'S A SAMPLE STORY JUST FOR YOU FROM VOLUME 1: NOAH'S ARK
Volume I available on Amazon: http://amzn.to/1V4jbrr
Volume II available on Amazon: http://amzn.to/1WbwSBT