So much more than a Jewish holiday cookbook, Get Cooking: A Jewish American Family Cookbook is a full year of celebration of Jewish food and culture.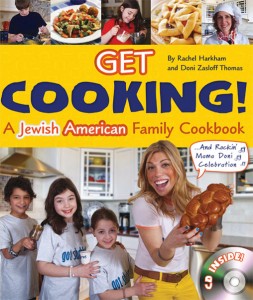 Packed with holiday activities, jokes, and rocking' tunes on a free CD from popular children's musician Mama Doni, Get Cooking! celebrates Jewish American culture and holidays plus makes a Jewish connection to secular American holidays in an exuberant guide that works for Jewish families of all levels of religious observance. Co-author Rachel Harkham showcases modern reinterpretations of classic recipes, sure-fire kid pleasers, and New Jewish cuisine with a worldly spin to please a wide variety of tastes.
Mama Doni and Recipe Rachel can bring an interactive cooking demonstration and discussion about engaging families to celebrate together. As an option, in addition to the cooking demonstration, Mama Doni can also perform the "Get Cooking! "Family Concert either acoustically (with one other musician) or with her full band. It features songs ALL ABOUT FOOD and celebrations. Original songs include "Falafafull," "Challah Day," "Matzah Pizza," "Latke Man," and more that will have everyone dancing in the aisles, ready to Get Cooking and celebrate. The show will bring the book to life with dancing, recipe cards, food samples, and excerpts/activities from the book.
BUY IT ON AMAZON: http://amzn.to/T8WhOv
REVIEW BY KIWI MAGAZINE (March 2013)
The subtitle of this book is "A Jewish American Family Cookbook," but it is so much more. For Jewish families, blended families, or those who just want to know more about what it means to be kosher or how to celebrate Passover, this book has it all. Jokes, songs, advice, and lots of very delicious recipes that would be welcome on any table. Kids can make many of these recipes, but involving the whole family to get their kitsch-en on is the most fun. Learn a bit more about Jewish culture while you challah for delicious food.