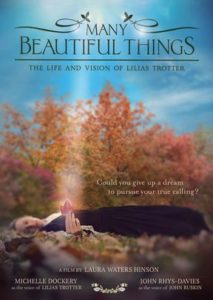 Has the world missed one of the greatest artists of all time?
From Victorian England comes the untold story of Lilian Trotter and her opportunity of a lifetime, her chance to become a legend and her decision that changed everything. Could you give up your dream to instead follow your calling?
Many Beautiful Things tells the story of Lilias Trotter, a 19th century British painter who sacrificed artistic fame in order to serve God as a missionary in Algeria. Trotter's extraordinary gift was noticed by famous art critic, John Ruskin who believed Trotter could become one of England's greatest artists. But to Ruskin's consternation, Trotter's unfailing love for the needy and those without Christ led her to focus on ministry and in time Trotter could not escape God's undeniable calling to serve on the mission field.
This remarkable story challenges Christians to ask themselves key questions such as, "What is God asking me to do with the gifts I have?" and "What would I be willing to sacrifice in order to be faithful to Christ?"
Trotter's profound spiritual insights were featured in the book, A Path Through Suffering by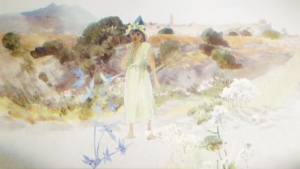 Elisabeth Elliot.
Featuring the voices of Michelle Dockery (Downton Abbey) and John Rhys-Davies (Lord of the Rings, Indiana Jones).
"The film brings to light a story of a historic woman artist whose name was nearly lost to history," Ms. Hinson told The Washington Times. "I was inspired by Lilias' countercultural view of success: She did not measure her life by external outcomes but rather by who she was becoming on the inside through her faithfulness to a calling she believed was from God. Lilias found beauty in the most mundane and otherwise unlikely places," the director said. "She perceived spiritual insights by closely studying ordinary people and plants, and was endlessly inspired to create and draw attention to the beauty that she found." – Washington Times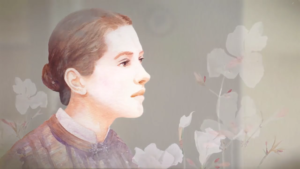 "If, like me, you have never heard of Lilias and are wondering why you might choose to see Many Beautiful Things, I would say that you will be left feeling that with more people like her in the world it would certainly be a better place. The work is also a culmination of the work of biographer, Miriam Rockness, who is also a Christian and Pastors wife" – Frankly My Dear (U.K)
"HIGHLY RECOMMENDED" – Video Librarian
70 minutes on 1 disc /  English w/English, Japanese, Korean and Chinese subtitles / 2016
HOW TO ORDER:
Public Performance and Digital Site Licenses are available through Soundview Media Partners. To inquire or to place an order, write to info@soundviewmediapartners.com or simply choose from the options below:
For group screening prices, please inquire.
In-home/personal use copies are available on Amazon: http://amzn.to/2pCj0Xs
Watch the trailer