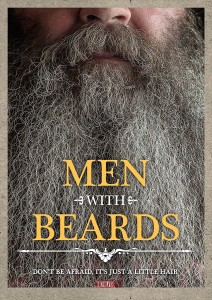 Growing a beard is like making an indie film; it requires stubborn determination, delusion, ego, revulsion for society, a mother's patience, and confidence in the process.
"Men with Beards is a character-driven film where the talking heads have serious beards and fierce opinions on identity and self-expression." — Dave Barber, Cinematheque
"…explores themes of discrimination, self esteem, culture, religion, history and more. Bravo! Support this film!" — Lindsey Mazur @HAESRD
"This is why documentaries were invented" — Christopher Stipp, Slashfilm.com
Men with Beards is a feature documentary that weaves a strange tale of history, beauty and brotherhood. The film journeys into the souls of countrymen to experience the challenges, triumphs and heartbreaks of growing and sporting a world-class beard. Delight in their daring stories, futuristic looks, and proud traditions. Men with Beards is a celebration of inner strength and personal growth.
But… Men with Beards is also a deeply enriching look at how society has chosen to view men and their facial hair through history. Are men ostracized by the hair on their face depending on how they wear it? Is there judgement against them for it? Preconceived notions about who the man is based upon the style of their beard? The answer is yes, and the film explores some of the whys behind certain cultural pressures to keep a clean face.
"An enjoyable documentary that is a bit deeper than it initially seems, this is recommended." — Video Librarian
Directed by Dylan Fries | 80 minutes on 1 disc
HOW TO ORDER:
Public Performance and Digital Site Licenses are available through Soundview Media Partners. To inquire or to place an order, write to info@soundviewmediapartners.com or simply choose from the options below:
For group screening prices, please inquire.
In-home/personal use copies are available on Amazon: http://amzn.to/2ffiFUu
Watch the trailer