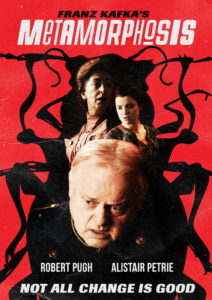 Franz Kafka (1883-1924), was a German-speaking Bohemian Jewish novelist and short-story writer. He is one of the most acclaimed writers of the Twentieth Century, and is recognized by many as a father of modern literature. Metamorphosis is one of his most iconic and enduringly popular novellas of all time.
Kafka's work, which fuses elements of realism and the fantastic, typically features isolated protagonists facing bizarre or surrealistic predicaments and incomprehensible socio-bureaucratic powers, and has been interpreted as exploring themes of alienation, existential anxiety, guilt, and absurdity. His best known works include "Die Verwandlung" ("The Metamorphosis"), Der Process (The Trial), and Das Schloss (The Castle). The term Kafkaesque has entered the English language to describe situations like those found in his writing.
Kafka's story Metamorphosis is the tale of Gregor Samsa, a traveling salesman, who wakes up one morning after disturbing dreams to find himself transformed in his bed into a giant insect-like creature. The story traces the interaction of Gregor and his family as he slowly starves to death for want of the right kind of sustenance. His death brings relief and rejoicing for his family, and releases them to a new, fresher, more positive and independent life without him.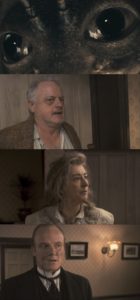 Kafka's prose is vividly visualistic in its attention to striking detail and cartoon-like grotesqueness. It presents a surreal world within a naturalistic framework, a wholly credible externalization of inner doubt, guilt, despair, self-disgust, self-pity and the laming fear of inadequacy and failure.
This 2012 British production was filmed at Halliford Studios, Shepperton by Director of Photography John Daly (Johnny English). The VFX crew, led by VFX Director William Rockall (Hangar 10), spent 18 months designing and creating Gregor Samsa in his creature form. The design of Gregor was particularly challenging as the viewer was required to maintain a level of empathy for what was described in the book effectively as a hideous vermin. CG Supervisor Simon Hodgkiss (Adventures of Orsum Island) referenced hundreds of images of real insects before a final design was settled on.
The casting of the film is superb and features Robert Pugh (The Ghost Writer), Alistair Petrie (Victor Frankenstein), Aidan McArdle (Sense8), and Maureen Lipman (The Pianist, Educating Rita)
"It is hard to describe how excellent The Metamorphosis is" – Eye for Film
"Writer/director Chris Swanton tackles this tale with a film that's quite faithful to the book" – Hollywood Reporter
"A remarkable work, strongly visual and deeply emotional" – Undead Backbrain
Winner, Special Jury Award WorldFest Houston
Winner, Global Best Art Direction Oaxaca FilmFest
Nominated, Golden Zenith Montréal World Film Festival
Official Selection, London Film Festival
Official Selection,WorldFest Houston
2012 / 85 minutes / Color / English language / a film by Chris Swanton.
HOW TO ORDER:
Public Performance and Digital Site Licenses are available through Soundview Media Partners. To inquire or to place an order, write to info@soundviewmediapartners.com or simply choose from the options below:
For group screening prices, please inquire.
In-home/personal use copies are available on Amazon: https://amzn.to/2PK2ORc
Watch the trailer