Save 20% on either DVD's w/ PPR or Digital Site Licenses when you purchase this collection vs. the cost of the films are ordered individually.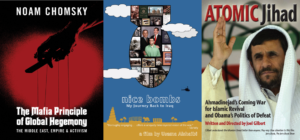 The Middle East Studies Collection 1 consists of three films. Each can be explored in more detail at the provided hyperlinks where trailers are also available.
Noam Chomsky – Mafia Principle Of Global Hegemony: Middle East, Empire, & Activism
The world's most influential living intellectual, Noam Chomsky, holds forth on the root causes of the conflicts in the Middle East, and talks about hopes for future social change.
Atomic Jihad: Ahmadinejad's Coming War For Islamic Revival And Obama's Politics
By seeking to appease Ahmadinejad with "change" in U.S. Middle East policy, President Obama may have ushered in the a catastrophe for America. If successful in its nuclear program, Iran and its allies will possess the means to achieve their ultimate goals – the defeat of America and the return of Islam to past glory
Filmmaker Usama Alshaibi (Profane, American Arab) returns to Baghdad to reunite with his family after nearly 24 years. The film navigates through his unique relationship to an Iraq that is much different than the country of his childhood. With humor and resilience Nice Bombs explores Usama's dual role as both Iraqi and American.
HOW TO ORDER:
Public Performance and Digital Site Licenses are available through Soundview Media Partners. To inquire or to place an order, write to info@soundviewmediapartners.com or simply choose from the options below:
For group screening prices, please inquire.