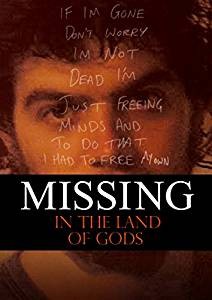 Like thousands of other young people Ryan Chambers travelled to India for experience and adventure. But Ryan never returned to his home in Mount Gambier in South Australia. Inexplicably, he went missing in the holy city of Rishikesh, leaving a note in his diary that read: "If I'm gone don't worry, I'm not dead. I'm freeing minds, but first I had to free my own."
Six years on, prompted by sightings and rumors, Ryan's parents Jock and Di return to India determined to unearth the truth. During their quest for their youngest son new doors seem to open that could lead to a clue to his whereabouts. With incredible patience, they plough through the hustle and bustle of India, from one potential clue to another.
Astrologers, psychics, ceremonies: the couple try everything. Even a phone call offering to put them in contact with the "supreme almighty" is not dismissed.  Hanging onto their resilience they keep on searching even when the latest hopeful path turns out to be a dead-end. Gradually, their sober, Western worldview fades and the values and standards of the spiritual world take over.
4 STARS "I haven't felt such a strong connection with a story and its characters for a very long time. You encounter Indian hospitality and bureaucracy, spirituality and poverty. Highly recommended but take tissues and a friend." – The Daily Blog (Australia)
"This was an emotionally involving story when it made news in 2005 and the film is undoubtedly just as powerful." – The AU Review
Strong on the international festival circuit with screenings including
Sydney Film Festival
Finalist Foxtel Australian Documentary Prize
International Documentary Film Festival Amsterdam
Australian Film Festival of India
Jaipur International Film Festival
Documentary Edge Film Festival New Zealand
Warburton Film Festival
88 minutes on 1 disc
HOW TO ORDER:
Public Performance and Digital Site Licenses are available through Soundview Media Partners. To inquire or to place an order, write to info@soundviewmediapartners.com or simply choose from the options below:
For group screening prices, please inquire.
In-home/personal use copies are available on Amazon: http://amzn.to/2dttWzZ
Watch the trailer