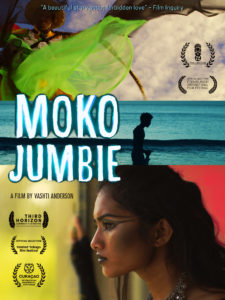 A Gothic punk Caribbean love story arises in the ruins of a coconut plantation in rural Trinidad.
"Moko Jumbie' dabbles in powerful spiritual themes, boldly confronts class and ethnic stereotypes and seduces with beautiful visuals of Trinidad. The film reaches ambitiously toward fusing our folkloric heritage into a relatable, supernatural love story, which is admirable. The performances are solid and the trip is eventful and fun to watch." – The Trinidad and Tobago Performing Arts Network
English girl Asha, returning to her Indo-Caribbean family home, is drawn to Roger, the Afro-Caribbean boy across the road. Her Auntie forbids their relationship, while her uncle is oddly aloof. The taboo attraction between the two teenagers grows despite family disapproval, political turmoil, a clash between cultures, and mysterious hauntings by unnaturally tall ancestral spirits.
Identity and the desire to connect with one's roots are boldly interwoven between superstition and spirituality.
If you follow your heart in the Land of Sugar, you might find MOKO JUMBIE.
Features a wonderful ensemble cast that includes Vanna Girod (Between Friends), Jeremy Thomas, Sharda Maharaj, Dinesh Maharaj (The Mystic Masseur), Melvina Hazard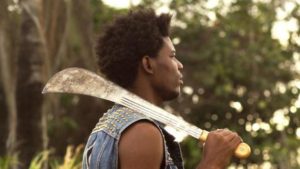 Winner: Best Screenplay-Mosaic International South Asian Film Festival
Nominated for World Fiction Award/Best Feature: Los Angeles Film Festival
Official Selection: Urban World Film Festival and Edinburgh International Film Festival
"The story finds the country's spiritual roots, infusing the film with magic realism. I'm glad to find the introduction of these otherworldly elements. It makes an otherwise simple film fascinating" – In The Seats
"A beautiful story about forbidden love" – Film Inquiry
"Both haunting and haunted, a palpably realised fever-dream of a film" – Caribbean Beat
2017 / 93 minutes / English language / A film by Vashti Anderson

HOW TO ORDER:
Public Performance and Digital Site Licenses are available through Soundview Media Partners. To inquire or to place an order, write to info@soundviewmediapartners.com or simply choose from the options below:
For group screening prices, please inquire.
In-home/personal use copies are available on Amazon: https://amzn.to/2DWbAaF
WATCH THE TRAILER