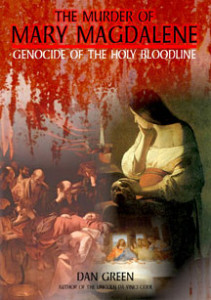 Did the Catholic Church conspire to eradicate the Holy Bloodline from existence? Was Mary Magdalene murdered?
In this unique film, journey to places never before researched in connection with this story. Venture into the heart of ancient Lincoln, England, and uncover a tale so mysterious, so at odds with the accepted norm, that we are forced to question everything we previously held to be true. Track down unknown texts, journey on a treasure hunt across Lincoln county, and discover the final resting place of Mary Magdalene herself.
"Dan Green takes you on an eye-opening, startling, and thoroughly absorbing voyage of discovery" – Cygnus Review
"Offering an alternative history to the story of Jesus and Mary Magdalene, Green weaves an intricate tapestry of symbols, codes, clues and events to support his belief that Mary Magdalene was murdered to prevent word from getting out that she and Jesus Christ were much closer than the official story tells us. Whether or not one agrees with its conclusions, chances are the only believers who'll get angry about this film are those who aren't really comfortable with their beliefs in the first place." – Michael W. Clark
A film by Phillip Gardiner / 90 minutes on 1 disc
HOW TO ORDER:
Public Performance and Digital Site Licenses are available through Soundview Media Partners. To inquire or to place an order, write to info@soundviewmediapartners.com or simply choose from the options below:
For group screening prices, please inquire.
In-home/personal use copies are available on Amazon: http://amzn.to/2eWEgjX
Watch the trailer