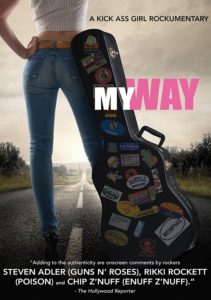 An indie produced, kick ass girl rockumentary about rebellion, persistence and dedication to one's goal. 
"An excellent cinematic narrative…[the film] urges us to follow our dreams no matter the cost." – Blogcritics.org
Meet Rebekah Starr (Truth Unspoken Series), a small-town girl stuck in a mid-western corporate life. Yearning to break free, she ditches her briefcase for a Les Paul guitar and hits the highway. Destination? Los Angeles' famed rock 'n' roll Sunset Strip.
Although Rebekah's marriage is failing, this is not some alternate fantasy life she's escaping to–it's her burning passion for music that can no longer be suppressed. On her journey, she serendipitously meets and befriends rock legends Steven Adler (Guns N' Roses) and Rikki Rockett (Poison). A witness to the power of passion and aspiration, My Way chronicles the hugely entertaining path one woman takes to pursue her seemingly impossible dream!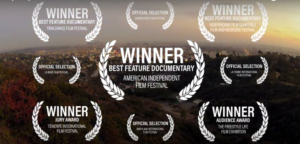 "With a cast that includes Ron Jeremy, Steven Adler of Guns N' Roses, and Rikki Rockett of Poison, along with commentary by experts on gender disparity, this tale of rebelling against the norm is a brave testament to a woman who decided to take her fate into her own hands." – Flavorpill
Featuring
Rebekah Starr
Richard Allan Ream aka Rikki Rockett, drummer for the glam rock band Poison
Steven Adler, original drummer for hard rock sensation Guns N' Roses
Chip Z'Nuff, from Chicago area band Enuff Z'Nuff
Ron Jeremy
Annika Alliksoo of the Rebekah Starr Band
"This is an interesting and entertaining film. It has all the elements of adventure, sex, fun and music, and shows how focusing on your hopes and dreams can eventually become a reality if you try hard enough." – Stagebuddy
"Most rock performers wait until they become famous before making a behind-the-scenes documentary. Not so the Rebekah Starr Band, largely comprising the eponymous lead singer and her tambourine-playing, Estonian BFF, Annika Alliksoo, whose cross-country trip to Los Angeles to perform on the legendary Sunset Strip and make a music video is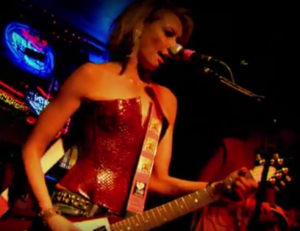 chronicled." – Hollywood Reporter
"Nothing says inspirational like a documentary featuring someone going after their dream. But when that person is a hot and talented kick ass female rock star with laser focus the ante definitely gets upped." – Starpulse
"With Snyder-Starr producing the film, "My Way" impresses as an exercise in narcissism" – Los Angeles Times
Extensive bonus material on DVD edition includes
INTERVIEW: Exclusive Interview with Rikki Rockett (POISON)
INTERVIEW: Exclusive Interview with Steven Adler (GUNS N' ROSES)
INTERVIEW: Exclusive Interview with Chip Z'Nuff (ENUFF Z'NUFF)
MUSIC VIDEO: The Rebekah Starr Band's 'Irrational Boy' featuring Ron Jeremy
MUSIC VIDEO: The Rebekah Starr Band's 'My Way'
92 minutes on 1 disc / color / 2012 / English w/optional sub-titles in Spanish and Italian / Directed by Dominique Mollee & Vinny Sisson
HOW TO ORDER:
Public Performance and Digital Site Licenses are available through Soundview Media Partners. To inquire or to place an order, write to info@soundviewmediapartners.com or simply choose from the options below:
For group screening prices, please inquire.
In-home/personal use copies are available on Amazon: http://amzn.to/2tNt6JA
WATCH THE TRAILER