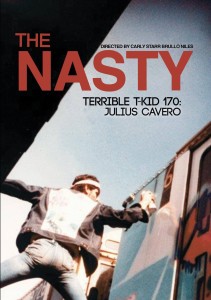 The Nasty is a documentary about a true graffiti legend who came out of the Bronx during the golden age of hip-hop.
The Nasty TERRIBLE T-KID 170: Julius Cavero, chronicles Cavero's coming of age as a poor Latino from the Bronx in the 1970's where a young boy named Julius would be forced into New York gang life. His canvas of choice… subway cars. Cavero channeled his anger & pain from being disregarded by society & even his family by spraying it out onto the subway cars for the public to see.
Until now the story of T-Kid 170 has been kept within the sub culture of graffiti. This film uses nearly 30 years worth of archived footage & never before seen home movies to bring insight and afford the viewer a rare glimpse into the world of subway graffiti.
You follow T-Kid into train yards all over the world, through his trials & tribulations from arrest, addiction, violence, love, and triumphs. You follow the story of one man's rise to become a legend, and you witness the story of someone who came from the bottom to write his name on the top.
T-kid is one of few who have left their mark on the history of graffiti, coming up in the golden age of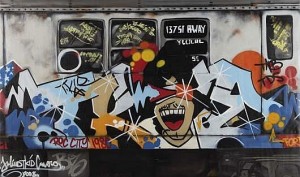 Hip Hop & becoming one of the leading figures in the emerging New York graffiti scene. His style, 3-D letters and unique characters have been a source of inspiration for many other writers from all four corners of the globe.
"The documentary contains fascinating interviews with Cavero, who comes off as a lovably brash Bronxite, and includes some thrilling actual footage of T-KID train bombing." —Dangerous Minds
"To this day, he [Cavero] is still a style master, a pioneer of Hip Hop culture, and a significant part of the artistic heritage of the graffiti movement" – Culture Addicts
Directed by Carly Starr Brullo-Niles / Producers: Linda Williams, Lou Niles, Laura Brullo, Rocking Horse Pictures
Features Julius Cavero, Henry Chalfant, Goldie, Cope2, Med, CES, Ivory TM7, Martin Jones, The Death Squad, Chain 3, Riff 170, Stan The Man, Peser, Dj Kay Slay, Part One, Sonic, Case II, Pose 2.
2014 / 50 minutes / color / a film by Carly Starr Brullo-Niles
HOW TO ORDER:
Public Performance and Digital Site Licenses are available through Soundview Media Partners. To inquire or to place an order, write to info@soundviewmediapartners.com or simply choose from the options below:
For group screening prices, please inquire.
In-home/personal use copies are available on Amazon: http://amzn.to/29Uz558
Watch the trailer