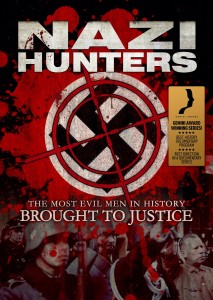 This film is no longer available for licensing through Soundview. In-home/personal use copies are available on Amazon:  http://amzn.to/1qX109R
The acclaimed, award-winning series….
The Nazi Hunters Series tells how a band of secret agents and avengers hunted down some of the most evil men in history.
Narrated by real-life Nazi hunters, every episode tells the story of an electrifying mission, from Klaus Barbie's dramatic pursuit in Bolivia, to the audacious Mossad operation to kidnap Adolf Eichmann in Buenos Aires.
"…the viewer comes away with profound respect for these heroic men and women responsible for the years-long intercontinental chase of the elusive Nazi hierarchy. Highly recommended." – Video Librarian
Consisting of 8 episodes on 2 discs, each episode is focused on a specific individual and mission. The Gemini Award Winning production for Best History Documentary Program and Best Direction in a Documentary Series was originally broadcast on National Geographic.
The episodes are:
Episode 1: Herbert Cukurs
Episode 2: Adolf Eichmann
Episode 3: Klaus Barbie
Episode 4: Erich Priebke
Episode 5: Joseph Mengele
Episode 6: Kurt Lischka
Episode 7 : Paul Touvier
Episode 8 : Gustav Wagner/Franz Strangl
"Nazi Hunters looks terrific, and it's put together with a lot of moxie and drive, with beautiful production values and tense direction." – DVDTalk
"…presents these stories in a concise, fast and easily understood manner. The subject matter can be disturbing but the stories of the hunters are exciting and endlessly fascinating." – DVD Verdict
"The information about their post-Nazi life is so intriguing that it's worth buying even if you think you know everything there is to know." – Love & Pop
352 minutes / 8 episodes / 2 discs
WATCH THE TRAILER