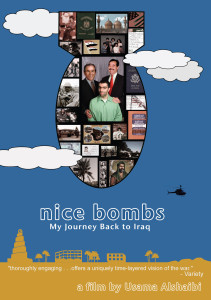 In Nice Bombs, filmmaker Usama Alshaibi (Profane, American Arab) returns to Baghdad to reunite with his family after nearly 24 years. The film navigates through his unique relationship to an Iraq that is much different than the country of his childhood.
Usama captures the conflicting reactions to the conditions of life in Baghdad. Through a wide range of opinions and experiences, he provides a broad panorama of voices long neglected under Saddam's regime. His cousin Tareef enters the room upon hearing an explosion. "It's a bomb. A Nice Bomb," he explains. The phrase is indicative of his family's nonchalance about their situation. As one young boy put it, "We're Iraqis. It's normal."
With humor and resilience Nice Bombs explores Usama's dual role as both Iraqi and American.
The DVD contains extras including more interviews with Iraqi women and broader more detailed view of life in Iraq, from picnics in a war zone to a family living in a bombed out elementary school.
"thoroughly engaging . . .offers a uniquely time-layered vision of the war." – Ronnie Scheib, Variety
"Alshaibi does something so simple yet, sadly, so neglected: He lets a Western audience see Iraqis not as crazed Middle Easterners shouting and shooting (and dying) en masse, but as individuals going about their daily lives…" – Time Out Chicago
"Humanizes the situation on the ground…" -Jonathan Rosenbaum, Chicago Reader (Critic's Choice).
"A surprisingly warm first-person video diary, blending a series of reunions with Alshaibi's vast array of relatives and footage of the bazaars, streets, homes and everyday perils of life in post-Saddam, mid-occupation and mid-chaos Iraq." – Michael Phillips, Chicago Tribune
Nice Bombs received a generous grant from the Creative Capital Arts Foundation and won the Tribeca All Access Creative Promise Award for Documentary Feature.
It received Best Documentary at the Chicago Underground Film Festival.
76 minutes on 1 disc
HOW TO ORDER
Public Performance and Digital Site Licenses available exclusively through Soundview Media Partners. To order, write to info@soundviewmediapartners.com or simply select from the License Options below:
In-Home/Personal Use copies available on Amazon http://amzn.to/1H5iOqB
WATCH THE TRAILER