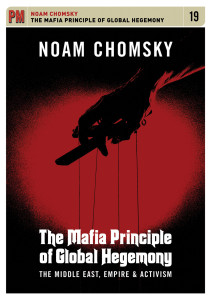 The world's most influential living intellectual, Noam Chomsky, holds forth on the root causes of the conflicts in the Middle East, and talks about hopes for future social change. The renowned foreign policy critic and linguist brings the full force of his rapier-like mind and deadpan wit to bear in slicing through mainstream misconceptions–many of them intentional–about the internal and external politics of Iran and Israel/ Palestine.
Chomsky eloquently contextualizes the power of the Israel lobby and the centrality of the US in resolving the underlying antagonisms in the Middle East, as well as weighing in on how US public opinion has shifted over the past several decades and addressing various positive directions for activism.
The Mafia Principle of Global Hegemony includes the hour long DVD extra of Noam Chomsky conversing with Larry Bensky about the media, class and right wing populism.
140 mins on 1 disc
HOW TO ORDER: 
Public Performance Rights and Digital Site Licenses are available exclusively through Soundview. To purchase, inquire to info@soundviewmediapartners.com or select from the License Options below:
In-home/personal use copies are available on Amazon:  http://amzn.to/1PKuujA
WATCH THE TRAILER