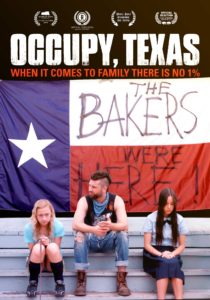 What happens when you give up your comfortable suburban lifestyle for activism only to be called back in from the streets of NYC?
Beau Baker, a washed out "Occupy Wall Street" protester, is woken up on the streets of New York City with news that his parents have died. After seven years away, he must now return home to Texas, where his parents have left him in charge of his two teenage sisters and their estate. This sets Beau off on a journey to search for and find the strength to reunite with his sisters, his past, and himself.
"I was on the jury for the 2016 Heartland Film Festival and Occupy, Texas is a finalist among the narrative feature films. So, watching Occupy, Texas was an obligation. Sometimes, it's good to be wrong. Occupy, Texas hooks you in courtesy of Barry's comfortable and assured direction and an ensemble cast that seems to understand even the finer nuances of the film." – The Independent Critic
"Texas is captured perfectly by Barry" – Panoptic
Features a wonderful ensemble cast that includes Gene Gallerano (Starring Austin Pendleton), Janine Turner (Cliffhanger), Lorelei Linklater (Blood Surf) and Gail Cronauer (JFK).
Winner of Honorable Mention, Best Feature Film, Myrtle Beach International Film Festival
Official Selection Raindance, Buffalo International Film Festival, Kansas City Filmfest
2016 / 93 minutes / Color / English / A film by Jeff Barry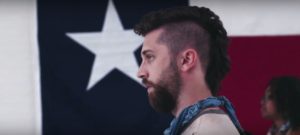 HOW TO ORDER:
Public Performance and Digital Site Licenses are available through Soundview Media Partners. To inquire or to place an order, write to info@soundviewmediapartners.com or simply choose from the options below:
For group screening prices, please inquire.
In-home/personal use copies are available on Amazon: https://amzn.to/2SxE2Er
WATCH THE TRAILER