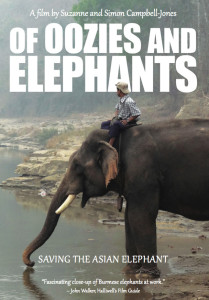 OF OOZIES AND ELEPHANTS offers a cultural story like no other, where man and animal work together toward a common goal. The film also presents serious science from an amazing place with huge, humorous, gracious animals that are critically endangered.
Myanmar, Burma, is the last country in the world using trained elephants and their handlers, men known as Oozies, for 'selective logging' – taking out one tree at a time. Together they have saved the forests, but tragically the elephants are not maintaining their numbers.
"Filmmaker Suzanne Campbell-Jones's fascinating documentary touches on the relationship between sustainable timber practices and elephant populations in Myanmar, following an international team of veterinarians who meet their local counterparts in the country for an extensive study of the dwindling birth rates of elephants both in captivity and in the wild, as well as research into the diseases that can affect the massive mammals. A fine documentary about saving the Asian elephant—an animal critical to preserving one of the largest remaining forest habitations—this is highly recommended" – Video Librarian

Stunningly filmed in 16×9 / High Definition, 'Of Oozies and Elephants'offers a poweful portrait of a beautiful country with amazing people, astonishing urban pagodas, sweeping plains, expansive paddy fields and fabulously untouched forests. The Elephants are the stars and the men play important supporting roles.
Burmese timber elephants are semi‐captive. They work during the day and are let out into the forest at night to forage and socialize. Each handler, the oozie, begins his day by tracking his animal and bringing it back to camp for a hilarious bath before the day's work begins.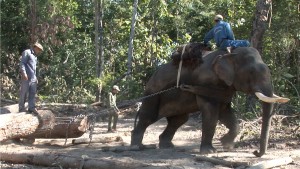 Being the first film crew in since the re-­‐opening of Burma, the "Of Oozies and Elephants" team were able to capture scenes seldom if ever seen. Embedded within a group of international scientists led by 'elephant lady' Dr. Khyne U Mar, access to the elephant camps was unique and unprecedented.  And, the story is one of wonder and amazement.
Elephants feature in almost every aspect of Myanmar life and culture. Their love of elephants is palpable.
Timber is worth 30% of the economy, yet Myanmar has the biggest area of deciduous forest in South East Asia. By logging with elephants, as they selectively take out one tree at a time, the oozies and elephants together have saved Burma's forests.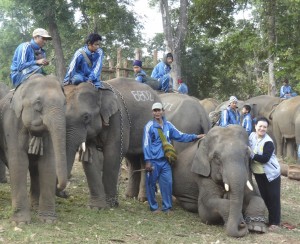 "Of Oozies and Elephants" tells the story of a lifelong commitment by each oozie and each elephant. They are partners, and together they care for one another and their culture in ways that only love, respect and commitment can accomplish.
The feature length documentary is filled with emotion, but also complete with information and science that is pertinent to the viewer's understanding of this most unique place on Earth and the phenomenon "Of Oozies and Elephants".
"…sterling camerawork highlights the beauty of Myanmar and the rough-and-tumble life of the
oozies."
 — School Library Journal
Winner: Audience Award, Bath Film Festival
Official Selection at Salento International Film Festival, Washington DC Environmental Film Festival, Ethnografilm Festival (Paris)
89 minutes on 1 disc

———————————————————————————-
HOW TO ORDER:
Public Performance and Digital Site Licenses are available through Soundview Media Partners. To inquire or to place an order, write to info@soundviewmediapartners.com or select from the License Options listed below:
For group screening prices, please inquire.
In-home/personal use copies are available on Amazon: http://amzn.to/1FZykki
Credits: Narrator: Calum Campbell-Jones / Music: Saffron Allen / Editor and Sound: Simon Campbell-Jones / Written, Filmed & Directed by Suzanne Campbell‐Jones
Production Year: 2013 / Run Time: 89 Minutes / Filmed in High Def / ProRes 422 Avail / 16 x 9 / Stereo