New technologies and scientific discoveries have given rise to genetically modified organisms (GMOs). While such advancements are usually considered forward steps, traditional, organic farmers have been under attack by large corporate farming interests seeking to dominate the food industry. Family farms, and specifically organic operations, are being forced out of business and pushed out of the way in pursuit of corporate profits.
Large chemical companies (Monsanto and Syngenta as examples) own patents on their GMO technology and focus much of their efforts on suing smaller farmers for patent infringement. Traditional, organic farmers, have consistently been under attack by these large corporate farming interests, who seek to dominate the food industry and run family farms out of business.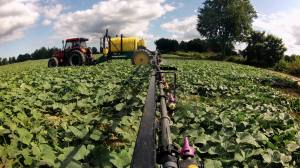 OF THE LAND looks at our current food supply as well as a variety of organic options available to consumers who want to support sustainable farming methods. It is not just about the fight, it is about potential solutions and available options. It is about choice, family, children and future. OF THE LAND looks at a variety of smaller, organic farming models, and traditional farming methods as options to combat the new GMO dominated industrial revolution.
FEATURING
Dr. Shiv Chopra – Ottawa, Ontario. Formerly a Doctor at Health Canada for over 30 years before he was fired.
Jim Gerritsen – Maine, USA. President of Organic Seed Growers And Trade Association (OSGATA)
Jeffrey Smith – Ohio. Author "Seeds of Deception", Institute for Responsible Technology.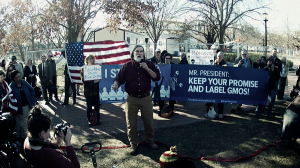 Ben and Jessie Sosnicki – Norfolk County, Ontario. Organic family farm
Prof. Levente Diosady – Toronto, Ontario. University of Toronto Department of Food Processing
Prof. Ralph Martin – Guelph, Ontario. Loblaws Chair in Sustainable Food Production at The University of Guelph.
Prof. Gilles-Eric Seralini – France. Conducted one of the only long term studies on GMO/RoundUp foods on rats.
2015 / 89 minutes / Color / 16×9 / A film by Bryan Law
Watch the Trailer/Stream the Film
HOW TO ORDER

Consumer Personal Copies of the DVD can be ordered via Amazon http://amzn.to/1MpF7oV. You can also stream it on Amazon at https://amzn.to/2RWlhKq
Educational Public Performance, Group Screening and Digital Site Licenses are available exclusively through Soundview Media Partners. Select from the License Options below:
All inquiries for Public Performance, Exhibition or International Licensing should be directed to info@soundviewmediapartners.com
Review from Video Librarian (Sept. 2015)
OF THE LAND ***1/2
(2014) 89 min. DVD: $24.98. Closed captioned.
This anti-Monsanto, pro-organic farming documentary makes some powerful points regarding Monsanto's genetically-modified seeds, which don't exist in nature on a DNA level, and also often require treatment with the company's pesticides, such as Roundup. Filmmaker Bryan Law's Of the Land maintains that government approval of GMO foods has been almost non-existent, with new varieties simply being pushed through by Big Agriculture lobbyists, while independent research into the potential harmful effects of those products on human hormones is ignored. Parallels are drawn to the meat industry's past use of controversial preservatives—a practice that was allowed decades before the industry and the Food and Drug Administration accepted research that showed clear harm. But there is a secondary issue that a number of non-GMO farmers contend with: Monsanto can't contain its seeds within carefully delineated crop areas, so they find their way on to land owned by organic farmers, who are not only stuck with the unwelcome newcomers but also subject to lawsuits by Monsanto for patent infringement. The film ultimately grows more optimistic, noting that consumers are becoming increasingly disenchanted with GMO food, while local farmers markets—in which communities can essentially buy from their neighbors—are on the rise. This is highly recommended. Aud: C, P. (T. Keogh)
OF THE LAND PRODUCTION SPECS

•Run Time: 88 mins
•Extras Available: Hours of unused interview footage and footage from the 2013 Canadian Organic Growers Conference, Trailers
•Aspect Ratio: 16×9 (1.78:1)
•Original Shooting Format: ProRes 422 (150 MBPS) 1920x1080p @23.976 FPS
•Cameras Used: Sony NX5U with Atomos Samurai Recorder, Canon 7D, GoPro Hero 2 & 3
•Available Edited Formats: High Definition & Standard Definition
•Country of Production: Canada
•Filming Locations: Canada (Ontario) & USA (Washington DC)
"I am not Anti-GMO. I am free choice" – Bryan Law, Director, Of the Land.