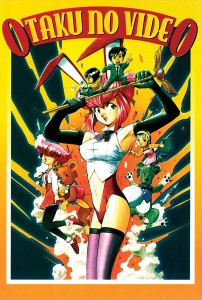 Otaku no Video (おたくのビデオ Otaku no Bideo, lit. "Geeks' Video") is a 1991 comedy 'mocumentary' anime spoofing the life and culture of otaku – individuals with obsessive interests in media, particularly anime and manga – as well as the history of Gainax, its creators. It is noted for its mix of conventional documentary film styles (with actual film, no less), with a more traditional anime storytelling fashion.
The story begins where the main character is an everyman character, Ken Kubo, living with his girlfriend Yoshiko and as a member of his college's tennis team, until introduced by his former friend Tanaka to a club of enthusiasts: a female illustrator, an information geek, a martial artist, and a weapons collector. Kubo soon joins them; and when Yoshiko abandons him, makes the wish to become the supreme enthusiast, under the name of "Otaking".
Since Otaku no Video was partially based in the personal life of the original creators of Gainax, who started their careers as otaku during the late seventies and the beginning of the eighties, many anime titles from that period are shown as footage or referenced in the OVA (in costumes, cosplay or other related material). Among them are Gatchaman, Uchuu Senkan Yamato, Urusei Yatsura, Captain Harlock, Mobile Suit Gundam, Space Adventure Cobra, Phoenix 2772, Magical Princess Minky Momo, The Super Dimension Fortress Macross, Macross: Do You Remember Love?, The Wings of Honneamise, Top o Nerae! and the Daicon III and IV Opening Animations.
"This is a true treat for the religious anime fan, no matter the genre. Otaku no Video, with its anime in-jokes that require pages of liner notes (or roomfuls of seasoned fans) to completely catch, and its in-depth insights (no matter how parodying) into the life of the otaku, is at once hilarious and almost touching.  This is a title that almost begged to be done … and who better to do it than the ultimate fanboys themselves – Gainax." – T.H.E.M. Anime Reviews
100 minutes on 1 disc
HOW TO ORDER:
Public Performance and Digital Site Licenses are available through Soundview Media Partners. To inquire or to place an order, write to info@soundviewmediapartners.com or simply choose from the options below:
For group screening prices, please inquire.
In-home/personal use copies are available on Amazon: http://amzn.to/2dnjYDl
WATCH THE TRAILER