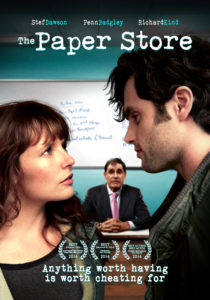 Can academic paper ghostwriting be a business?
3.5 STARS Highly Recommended by Video Librarian which wrote "Driven by virtuoso performances from its three lead actors, The Paper Store is an engrossing and sometimes explosive drama about navigating academia. Based on a play by Katharine Clark Gray (who adapted it for the screen with her husband, Nicholas Gray, the film's director), the sharp-edged story finds college dropout Annalee (Stef Dawson) cynically exploiting her own keen intellect and writing talent by ghostwriting papers for college undergraduates."
Annalee (Stef Dawson; The Hunger Games trilogy) is an academic ghostwriter–a freelance cheat working in the shadows of a college campus. Or rather, she was…until Sigurd (Penn Badgley; Margin Call) books her for the entire semester. He's subcontracting his entire graduate degree. She has reservations, but he's paying double. Besides, she can't resist the challenge of forging a whole MFA.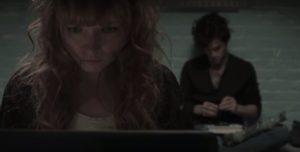 Annalee and Sigurd become lovers. But things soon turn sour. She can't end the romantic relationship without ending the business one. Secrets start to spill. And then she learns that Sigurd has been recording their meetings. When Sigurd refuses to explain, Annalee rats him out to Professor Kane (Richard Kind; Argo). Instead of the swift justice she envisioned, however, Kane has his own idea of what should happen next. Call it extortion; call it blackmail. Whatever you call it, the ugliness is just beginning…
"Among the myriad issues sweeping our country, the gargantuan cost of higher education emerges as a (still) rising concern. With the annals of cinema relatively bereft of material on the subject, few narrative films have touched on it so pointedly or deftly as The Paper Store." —Conor O'Donnell, Film Stage
Features an all-star cast including Penn Badgley (Gossip Girl, Margin Call), Richard Kind (Argo, Inside Out), Stef Dawson (The Hunger Games series) and more!
From Producer Bonnie Timmerman (Georgia Rule, Bug, Death and the Maiden)
WINNER! Best Dramatic Film – Manhattan Film Festival
WINNER! Outstanding Lead Actor [Jury Special Mention] – Manchester Film Festival
WINNER! Best Actress + Best Actor – Oxford International Film Festival
WINNER! Best Drama – Fort Worth International Film Showcase
WINNER! Best Drama Film – Los Angeles Film Review / Independent Film Awards
OFFICIAL SELECTION: Louisville International Festival of Film, New Filmmakers 2016, SyrFilm Fest, Hollywood Reel Independent Film Festival, Pittsburgh Independent Film Festival and more!
2016 / 98 minutes / color / 16×9 / English language / A film by Nicholas Gray
HOW TO ORDER:
Public Performance and Digital Site Licenses are available through Soundview Media Partners. To inquire or to place an order, write to info@soundviewmediapartners.com or simply choose from the options below:
For group screening prices, please inquire.
In-home/personal use copies are available on Amazon: https://amzn.to/2F6NcG5
WATCH THE TRAILER