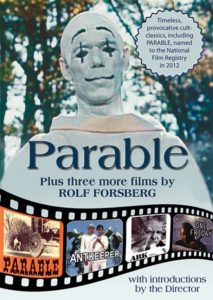 Rolf Forsberg (born July 12, 1924) is an American playwright, film and theater director.
This acclaimed collection of 4 of Forsberg's cinematic works, each introduced by Forsberg himself, includes
1) Parable (1964) 23 min. — Forsberg's critically acclaimed, Parable was a controversial attraction at the Protestant and Orthodox Pavilion of the 1964 New York World's Fair where officials of the Fair tried unsuccessfully to ban its inclusion. Of the 50 films presented at The Fair, Newsweek Magazine declared Parable "The Best". In it, a mysterious clown in all white attire appears as a Christ-like figure to redeem a circus. Restored to its original widescreen format. The film was named to the National Film Preservation Board in 2012, almost 40 years after its production.
2) The Antkeeper (1966) 28 min. — The story of mankind is represented by a gardener, his son, the wicked one, and a world populated by ants. Drawing inspiration from the works of Fellini and Bergman, this is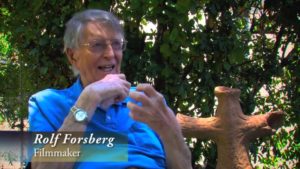 Forsberg's thought-provoking 1960s cinematic metaphor with breathtaking imagery and mind-blowing and photography by the distinguished macro-cinematographer Robert Crandall.
3) Ark (1970) 20 min. — Forsberg's prophetic vision of environmental and spiritual degradation depicts one man's desperate attempt to protect a sealed ecosystem from hostile intruders.
4) One Friday (1973) 10 min. — A day like any other Friday, only an all-out-race war is underway today and no one in this upscale neighborhood is safe, not even a young child whose purity and innocence serves as counterpoint to the chaotic turmoil unfolding all around him.
107 total minutes on 1 disc / 1964-1973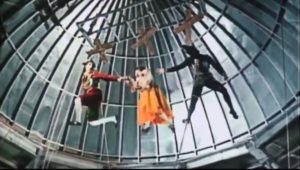 HOW TO ORDER:
Public Performance and Digital Site Licenses are available through Soundview Media Partners. To inquire or to place an order, write to info@soundviewmediapartners.com or simply choose from the options below:
For group screening prices, please inquire.
WATCH THE TRAILER