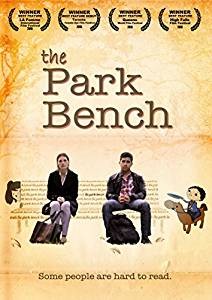 A high-strung tutor and her Hispanic student strike romantic sparks during a series of English lit lessons on a park bench.
The multi-award winning The Park Bench is an unconventional comedy romance starring Walter Perez (The Avengers, Friday Night Lights) and Nicole Hayden (Mad Men, Grey's Anatomy) about two opposites who share their inner lives through the books they read.
When Emily, a neurotic librarian-to-be, is assigned to Mateo, a struggling undergrad, in American Lit, they do not get along. But when the discussion turns from classics to confessions, they reveal secrets that could change their lives forever. Once they've revealed their deepest feelings and secrets, they're forced to make an important choice about their future.
Utilizing a colorful and whimsical blend of animation with live action, The Park Bench reveals how stories shape our lives.
"A sweet tale with a smart storytelling device and charming performers!" – Los Angeles Times
Winner – Best Feature, LA Femme International Film Festival 2015
Winner – Best Feature Debut, Toronto Female Eye Film Festival 2015
Winner – Best Feature, Queens World Film Festival 2015 – Awards
"The script plays like something by an English major overstuffed with knowledge of lit but whose real-life experience is drawn largely from movies. Great cinematography" – The Village Voice
Produced and directed by Ann Leschander / 77 minutes on 1 disc / 2015
HOW TO ORDER:
Public Performance and Digital Site Licenses are available through Soundview Media Partners. To inquire or to place an order, write to info@soundviewmediapartners.com or simply choose from the options below:
For group screening prices, please inquire.
In-home/personal use copies are available on Amazon: http://amzn.to/2fxxpm4
WATCH THE TRAILER