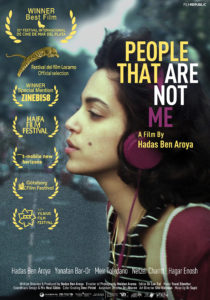 "The movie is cinema, as a portrait of a young woman [Joy] who is unable to cope with her unrequited love for Yonatan (Netzer Charitt). But the way in which [Director] Ben Aroya shapes the protagonists romantic distress raises the question of whether Joys disappointment stems from a deep, authentic love for Yonatan, or from the blow that their separation has dealt her ego." – HAARETZ
Joy can't let go of her ex, but doesn't seem to be able to fall for the new guy. In the meantime she keeps having casual sex with strangers. She is a young woman living in Tel Aviv who has a love-hate relationship with its casual sex scene. Her entire world comes down to her apartment and the street where it is located, the same street where her ex lives, who refuses to keep in touch with her. Joy tries desperately to get him back, refusing to let him go until she runs into Nir, a chatty intellectual, who says and does whatever he wants. In her attempts to be free like him, Joy will be cruel to others and develop an obsessive hunger for touch.
In the spirit of the French New Wave, the acclaimed film deals with urban loneliness within the Y generation, specifically the young people of Tel Aviv who yearn for intimacy but are also terrified by it.

"Delivers a portrait of Tel Aviv millennials framed in a romantic dramedy directed, produced and penned by first-timer Hadas Ben Aroya, trained at Steve Tisch School of Film at Tel Aviv University" – Variety
"…overwhelmingly a stark portrait of a woman" – Movie Magazine International
Worldwide acclaim has been captured from Haifa to Taipei including…
Winner for BEST FILM, 31° Festival Internacional De Cine de Mar Del Plata
Winner, Special Mention, Zineb158
Winner Jury Prize 2017 Calgary Film Festival
Grand Prix 2016 Bilbao International Festival
Official Selection 2017 Taipei Film Festival
Official Selection 2017 Goteborg Film Festival
Official Selection 2016 Haifa Film Festival
Official Selection 2016 Locarno Film Festival
Key cast includes Yonatan Bar-Or (Someone to Run With, Goose Bumps), Hadas Ben Aroya (Sex Doll), and the debut of Netser Charitt
77 minutes on 1 disc / Color / 2016 / Hebrew with English subtitles / A film by Hadas Ben Aroya
HOW TO ORDER:
Public Performance and Digital Site Licenses are available through Soundview Media Partners. To inquire or to place an order, write to info@soundviewmediapartners.com or simply choose from the options below:
For group screening prices, please inquire.
In-home/personal use copies are available on Amazon: http://amzn.to/2F7jWP1
WATCH THE TRAILER