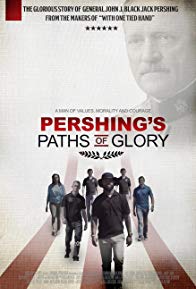 Honor – Acceptance – Integrity
Pershing's Paths of Glory is a celebratory presentation of contemporary inspiration and American history. It combines the past glory and achievements of GENERAL JOHN J. PERSHING (1860-1948) with his modern day impact upon young Americans.
Inspired by Pershing's numerous civil and military accomplishments, a diverse group of young American cadets follow his global footsteps learning why his leadership still influences our society today.
Raised in the Midwest, General Pershing triumphed while commanding the American Expeditionary Forces playing an integral role to end World War One. He is ranked among the top five American Generals throughout history.
Importantly, Pershing was way ahead of his time when it came to racial equality and civil rights. Stirred and encouraged by Pershing's achievements and character, the young cadets develop an appreciation for Pershing's racial empathy for the Black Buffalo Soldiers whom he led three times. Observing his unique brand of multi-cultural respect, they come to understand why many consider him to be an early advocate of civil rights. Subsequent generations view Pershing as a role model for leaders today with his admirable personal values of honor, acceptance, and integrity.
From the trenches of war to the introduction of the cadets to the actors, Pershing's Paths of Glory includes wonderful reenactments from the battlefields Pershing commanded, thus making the film a fully dynamic and inspirational viewing experience.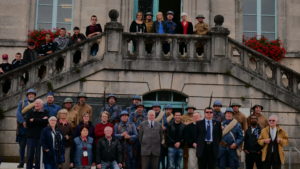 The film details the commanding General's historical military strategies, his influence during the wars he fought, and his impact on the generations that have followed through the use of archival footage and photography combined with new contemporary segments of the cadets throughout their journey. Adding a personal perspective, the cadets are joined by Sandy Pershing during their journey.The result is a stirring and inspirational excursion through military history and one man's enormous impact.
Director's Statement from Joe Hartnett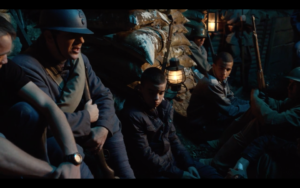 "As a college professor, I see how young people struggle to find their place in today's chaotic world.  More and more of them suffer from depression, existential angst, and other mental health issues.
Realizing that there is an urgent need for honorable leaders to model hope, character, and moral values, I wondered who these young people could turn to for guidance. Then, an incredible opportunity opened up for my producing partner, Dayle Hartnett Ph.D. and I to produce and direct the documentary film, Pershing's Paths of Glory.
The life of General John Joseph "Black Jack" Pershing is important in that he is an example of the kind of visionary leader the world currently needs.
When we decided to cast young cadets, we were immediately encouraged to see that General Pershing's values live on in them – today! We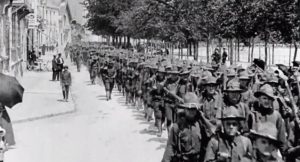 decided to show these young leaders following the paths of this remarkable man who, despite a major personal tragedy, soldiered on while exemplifying courage, acceptance and integrity."
Joe Hartnett also directed the film With One Tied Hand which tells the story of the Buffalo Soldiers who helped liberate Tuscany in World War II and then had to return to the "Jim Crow" era in America.
2018 / 43 minutes / Color / 16×9 / English / A film by Joe and Dale Hartnett
HOW TO ORDER:
Public Performance and Digital Site Licenses are available through Soundview Media Partners. To inquire or to place an order, write to info@soundviewmediapartners.com or simply choose from the options below:
For group screening prices, please inquire.
Order the DVD (in home/personal use) on Amazon https://amzn.to/34hiOSq Prefer to stream it? Visit https://amzn.to/3duEh0B
WATCH THE TRAILER