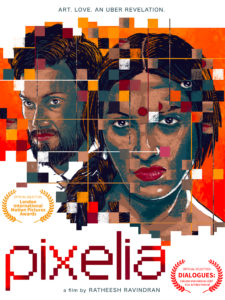 Pixelia is a film about Realization and Acceptance.
Amos Larsen wrote "Ratheesh Ravindam beautifully directed this heartwarming story that resonates since we have all looked for connection".
Kumar, a bachelor in his thirties leaves his corporate job in Kochi to become a graphic novelist. He embarks on a new life as an Uber driver in Kochi while working on his graphic novel titled 'Pixelia'.  One day a transgender named Mandakini gets into his cab and that day changes Kumar's life forever.
Kumar and Mandakini spend the entire day talking and they open each other's minds. Mandakini shares her past life and her desire to adopt a child while Kumar narrates the story of his graphic novel to her.
Gradually a bonding ensues between Kumar and Mandakini making Kumar realize and come to terms with his queer identity. As they start their new relationship, Kumar gets into deeper conflicts regarding adopting a child, as adoption by queer parents is realistically difficult in a country like India.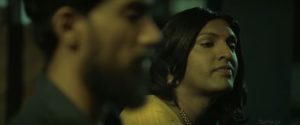 "…brings several worlds together — reality, art, virtual reality, the idea of desire and love, gender — there are so many facets to it." – Cinestaan
Pixelia "as its name suggests, is about 'pixels' or the process of fragmentation." – Times of India
Pixelia, filmed in the Indian state of Kerala, is a film with a stylistic blend of documentary and magical realism that takes a deep look into the fragmentation in our daily lives.
Official Selection Calcutta International LGBT Film & Video Festival
Official Selection Queer Asia Film Festival
Official Selection London International Motion Pictures Awards
Official Selection Kolkata International Film Festival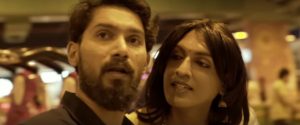 The cast includes: Sanal Aman (Eli Eli Lama Sabachthani?), Gowri Savithri, Vijay Menon (Vilakkumaram), Afeeda KT and Vedh Vishnu.
PIXELIA is an independent film made with the support from 'Filmocracy Foundation', an organization that supports and promotes filmmaking in Kerala. Pixelia was made on a shoestring budget with a small crew and shot on Sony A7Sii camera. Cinematography is done by Sakyadeb Chowdhury and editing by Kiran Das and Rumjhum Banerjee. Make Up for the movie is done by Mitta Antony and costume design is the work of Sharmila Nair.
2018 / 70 minutes / Malayalam w/English Subtitles / A film by Ratheesh Ravindran (Achcham Yenbadhu Madamaiyada)

HOW TO ORDER:
Public Performance and Digital Site Licenses are available through Soundview Media Partners. To inquire or to place an order, write to info@soundviewmediapartners.com or simply choose from the options below:
For group screening prices, please inquire.
In-home/personal use copies are available on Amazon: https://amzn.to/2KC2OlM
WATCH THE TRAILER