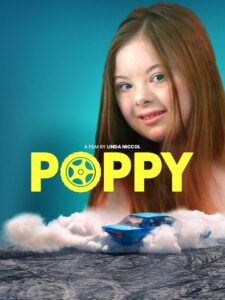 DVD w/PPR avail January 3, 2023. DSL's available Now.
WINNER, BEST PICTURE – Socially Relevant Film Festival
Nineteen-year-old Poppy Simpson (Libby Hunsdale) is an irrepressible young woman with Down syndrome – and the idea that she should get to do what everyone else does: have a job, drive a car, get married, have sex, and be in charge of her own destiny.
Holding her back is Dave, her older brother and only family since the death of their parents. They work together in their inherited auto shop business, but super-protective Dave doesn't think she's up to getting her driver's license, becoming an auto mechanic, or having an adult relationship.
Quietly rebellious, Poppy secretly begins to teach herself to drive, finds a friend at the Automobile Association where she gets her provisional license, and reconnects with a school friend, Luke, who needs his car repaired in time for the local burnout competition – Poppy offers to fix his car on the quiet in exchange for driving lessons.
All the while, the family repair business is failing badly, Dave's overwhelmed and drowning his worries in alcohol, and on burnout day, Poppy secretly decides to enter the competition herself.
Watch out world – there's no holding her back! She's got all the right skills, and soon no one will be able to deny them.
Poppy is unstoppable.
OFFICIAL SELECTION – Cinefest
OFFICIAL SELECTION – Slamdance
OFFICIAL SELECTION – LA Femme International Film Festival
OFFICIAL SELECTION – Cinemagic Belfast
"Go and see the film, take the whanau [extended family], sit back and watch stereotypes being smashed. Will give you a great deal to smile about." – Colleen Brown, The Wellington Down Syndrome Association.
"A nuanced, vibrant and comedic tour-de-force" – James Croot, Stuff
"Libby Hunsdale does famously as Poppy." – Geoff Horne, Beacon
"Poppy's sheer determination will win the audience over because she's a character who refuses to give in to the misconceptions of society. Recommended." – S. J. Portelli for The Sound View
2021 Family Film / 98 Minutes / Color / English / A film by Linda Niccol
HOW TO ORDER:
Public Performance and Digital Site Licenses are available through Soundview Media Partners. To inquire or to place an order, write to info@soundviewmediapartners.com or simply choose from the options below:
For group screening prices, please inquire.
In-home/personal use copies are available on Amazon: https://amzn.to/3WjOpwY
WATCH THE TRAILER