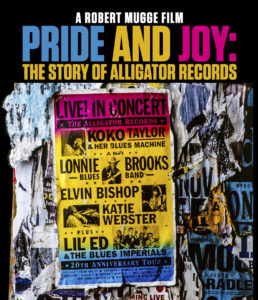 Transferred to HD from the original 1992 16mm film and lovingly restored…
Musicologist and acclaimed filmmaker Robert Mugge's dynamic portrait of Alligator Records, the legendary Chicago blues label founded by Bruce Iglauer in 1971.
In 1971, Bruce Iglauer founded Alligator Records, the most successful modern blues label. In early 1992, Iglauer staged the Alligator Records 20th Anniversary Tour starring Koko Taylor, Elvin Bishop, Katie Webster, Lonnie Brooks (w/Ronnie Baker Brooks), and Lil' Ed and the Blues Imperials.
Director Robert Mugge's film, PRIDE AND JOY: THE STORY OF ALLIGATOR RECORDS, documents that exciting tour which includes an incredible track listing:
    – Pride and Joy
    – Pussycat Moaning
    – El-Bo
    – Wife for Tonight
    – It's a Dirty Job
    – Ed's Boogie
    – Lord I Wonder
    – Beer Drinking Woman
    – I Want All My Money Back
    – I'd Rather Go Blind
    – Sweet Home Chicago
    – Killing Floor
    – Can't Let These Blues Go
    – Mean Ole Frisco
    – Two Fisted Mama
    – Stealin' Watermelons
    – My Dog
    – Those Lonely Lonely Nights
    – Two Headed Man
    – Something Strange is Going On
    – Wang Dang Doodle
"A fascinating look at the pivotal Chicago blues label. Koko Taylor and her Blues Machine, the Lonnie Brooks Blues Band, Elvin Bishop, Katie Webster, and Lil' Ed and the Blues Imperials are uniformly dynamite." – Billboard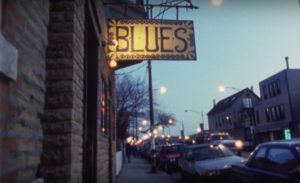 "PRIDE AND JOY is a tribute to Iglauer's blue velvet valentine. [It] will put a tingle down your spine." – Boston Globe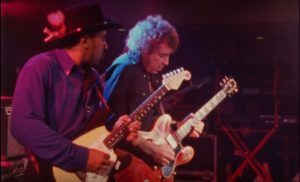 "The stars of Alligator Records put on as intense a show as you are likely to attend. The filmmaker is the exceptional Robert Mugge, who knows better than anyone alive how to show musicians at their best." – St. Louis Post-Dispatch
"Fans of blues who wailed along with director Robert Mugge's incisive documentary DEEP BLUES in 1991 have a new blues treat to bite into with PRIDE AND JOY: THE STORY OF ALLIGATOR RECORDS" – San Francisco Chronicle
87 minutes  / 1992 / Color / HD / A film by Robert Mugge (Sonny Rollins Saxophone Colossus, Last of the Mississippi Jukes). View our entire Robert Mugge Collection.
HOW TO ORDER:
Public Performance and Digital Site Licenses are available through Soundview Media Partners. To inquire or to place an order, write to info@soundviewmediapartners.com or simply choose from the options below:
For group screening prices, please inquire.
In-home/personal use copies are available on Amazon: https://amzn.to/2NpSlfn
WATCH THE TRAILER