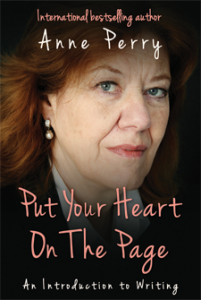 PUT YOUR HEART ON THE PAGE: An Introduction to Writing By Anne Perry
With 75 novels published since 1978, all remain in print. Sales total more than 25 million books.
Now, celebrated British novelist ANNE PERRY brings to market a critical educational tool for aspiring and struggling writers!
Anne Perry started out as a good writer, but has won greatness inch by inch by reading other authors, listening to editors and agents, and adapting techniques from other creators. Now you, too, can learn from an author who The New York Times has called First Rate, and who is included in the 100 Masters of the crime genre; who has sold 25 million copies worldwide to continuing critical acclaim. In this instructional video, Anne references her quintet of novels about World War One to demonstrate the various themes which need to be considered when you first pick up that pen. Although writing a book can be like climbing Everest, the advice you find here will save troublesome extra drafts, and give you a head start towards an enjoyable writing experience and a successful novel.
"…a popular title that will be sought out by would-be writers. Recommended" – Video Librarian
Perry's critical acclaim is world-wide:
"FIRST RATE" – New York Times
"Highly Recommended" – Historical Novel Society
"Perry's books grapple with questions of sin and repentance, the price of redemption and forgiveness" – The Guardian
"Like Thakeray edited by Elmore Leonard" – Booklist
Selected as one of the 20th Century's '100 Masters of Crime'  – The Times!
16 X 9 / 67 minutes on 1 disc broken into 10 Chapters + intro + bonus exercises
HOW TO ORDER:
Public Performance and Digital Site Licenses are available through Soundview Media Partners. To inquire or to place an order, write to info@soundviewmediapartners.com or select from the License Options below:
For group screening prices, please inquire.
In-home/personal use copies are available on Amazon: http://amzn.to/1sqyziM
Watch the trailer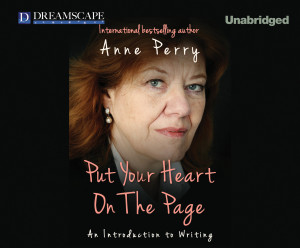 AUDIOBOOK ALSO AVAILABLE!
Put Your Heart on the Page is ALSO available as an Audiobook and for Kindle. Order the Audiobook today on Amazon: http://amzn.to/Y6KwNH