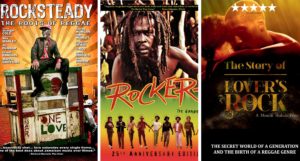 Save 20% on this classic collection of Reggae music history documentaries when purchased as a collection. To read more about the individual films, click on the titles hyperlinks.
The three dynamic historical films in this collection are:
ROCKSTEADY: THE ROOTS OF REGGAE
While everyone has heard the music of Bob Marley, the superstar of reggae, few people know that it was Rocksteady, the musical transformation from Ska, that developed the buoyant rhythms, prominent bass pulse, soulful vocals and socially conscious lyrics that gave reggae its power.
"Poverty, oppression and exile are all themes here. Marley's widow, Rita, takes us on a tour of the impoverished community of Trenchtown and talks about how you can hear the yearning for a better life in the music, which eventually merged into the more militant themes of reggae." – Repeating Islands
"Perry Henzell's 1972 film The Harder They Come will always be the quintessential reggae movie, forever tied to the music and culture of Jamaica. But if The Harder They Come introduced reggae on the big screen, giving it a cinematic identity, then Ted Bafaloukos' Rockers gave it heart and soul." – DVD Talk
Lovers Rock, often dubbed 'romantic reggae' is a uniquely British sound that developed in the late 70s and 80s against a backdrop of riots, racial tension and sound systems. Live performance, comedy sketches, dance interviews and archive footage shed light on the music and the generation that embraced it.
HOW TO ORDER:
Public Performance and Digital Site Licenses are available through Soundview Media Partners. To inquire or to place an order, write to info@soundviewmediapartners.com or simply choose from the options below:
For group screening prices, please inquire.