The Rise of Disaster Capitalism features Naomi Klein explaining the ideas and research behind
her bestselling book, The Shock Doctrine: The Rise of Disaster Capitalism. In this riveting lecture and interview, Klein challenges and exposes the popular myth of the free market economy's peaceful global victory.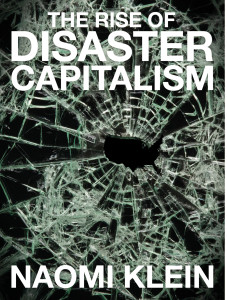 Around the world there are people with power who are cashing in on chaos, exploiting bloodshed and catastrophe to brutally implement their policies. They are the shock doctors. From Chile in 1973 to Iraq today, this is the chilling tale of how a few are making a killing while more are getting killed.
Portions of the proceeds from the sale of the DVD go to the UK non-profit organization War on Want.
77 minutes on 1 disc
Naomi Klein is an award-winning journalist, syndicated columnist and author of the international bestseller, The Shock Doctrine: The Rise of Disaster Capitalism. Her first book No Logo: Taking Aim at the Brand Bullies was also an international bestseller
HOW TO ORDER:
Public Performance and Digital Site Licenses are available exclusively through Soundview Media Partners. To inquire or to place an order, write to info@soundviewmediapartners.com or select from the License Options below:
For group screening prices, please inquire info@soundviewmediapartners.com
In-home/personal use copies are available on Amazon: http://amzn.to/1R8KmiF