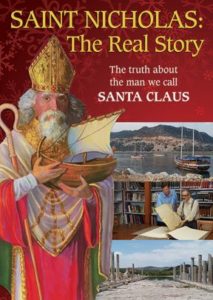 Saint Nicholas: The Real Story takes you on a thrilling quest for truth. You will visit beautiful Mediterranean locations and explore stunning archaeological excavations. You'll hear from experts about new historical and scientific discoveries and hear intriguing stories about stolen bones. Through it all you'll discover the true story of a third century Christian man named Nicholas, a man known for his generosity and concern for the poor.
As a bishop, Nicholas stood for truth at a critical time in Church history and he profoundly affected the lives of all he touched. Saint Nicholas: The Real Story unveils a portrait of a man who turns out to be far more interesting than the fable that rose up around him.
Hosted by Dr. Mark Wilson, the world's leading expert on the early church in Turkey and director of the Asia Minor Research Center.
"A curious cinematic poetry emerges amongst the film's historical lesson, as if all of this "real story" about St. Nick is a kind of window onto a deeper truth about the world at large – we have forgotten the truth about St. Nicholas, but that truth remains true, buried beneath hundreds of years of pop-cultural accumulation but resilient and eager to be seen if we'd only look." – Brehm Center
Featuring expert commentary from Adam C. English, author of, The Saint who would be Santa Claus and from Father Gerardo Cioffari, Director of the Centro Studi Nicolaiani in Bari, Italy.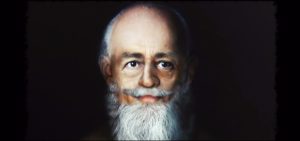 "Santa Claus—the jolly, gift-bearing figure closely associated with Christmas—has his historical roots in the story of St. Nicholas, the Greek Bishop of Myra (Myra now being a part of modern Turkey). Nicholas lived during the third and fourth centuries, A.D., and his impact on the development of early Christianity has much to do with why he is celebrated in several Christian denominations and many nations (there are 500 or more St. Nicholas churches in the U.S. alone). Writer-director Stuart Lachlan Bennett's Saint Nicholas: The Real Story serves up a rich and detailed portrait of the man who bears little resemblance to the figure found at the North Pole. Born in the Mediterranean coastal city of Patara, Nicholas was orphaned at an early age, but little more is known about his young life (his true history is further complicated by past conflations with another Nicholas—Nicholas of Sion—a writer who lived two centuries later and had an interest in the bishop). What is known is a famous tale about St. Nicholas before he entered the clergy, when he became a secret benefactor to a poor family (the beginnings of gift-giving at Christmas are here). As the Bishop of Myra, Nicholas was arrested and tortured during one of the periodic persecutions of Christians launched by a Roman Emperor, horrific cycles that finally stopped when Emperor Constantine converted to Christianity. After that, Nicholas was able to become a fierce advocate for the protection of innocent people from provincial governors and soldiers. Nicholas's legacy also includes taking a major role in making the church's definitive case for the divinity of Jesus. Combining on-location filming with interviews of various experts, this fine biographical portrait is highly recommended." – Video Librarian
55 minutes / Widescreen / 2015 / Optional English Subtitles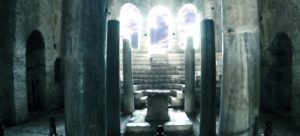 HOW TO ORDER:
Public Performance and Digital Site Licenses are available through Soundview Media Partners. To inquire or to place an order, write to info@soundviewmediapartners.com or simply choose from the options below:
For group screening prices, please inquire.
In-home/personal use copies are available on Amazon: http://amzn.to/2xsfiWI
WATCH THE TRAILER