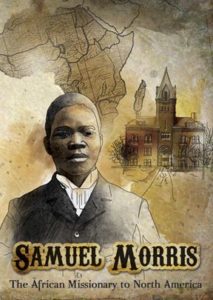 In 1892, 18-year-old Prince Kaboo of Liberia's Kru tribe had been captured by the rival Grebos. When Kaboo's people could not pay his ransom, the young prince was readied for execution. But at the last minute, there was a blinding flash of light and a mysterious voice that said, "Run Kaboo, run!" Escaping his enemies, Kaboo found his way to an American Missionary outpost where he became a Christian.
After learning all he could from the American missionaries, Kaboo (now taking on the name Samuel Morris as a witness to his new life) was determined to set out for America where he could learn more about his Savior. He survived a harrowing over-sea journey and amazed the hard-bitten sailors with his tenacious faith.
Arriving in New York, Morris continued to tell his astonishing story to all who would listen. His quest for knowledge eventually led him to Taylor University in Indiana. There Morris' bold faith and miraculous story brought revival to the ailing campus as well as the surrounding community.
Samuel Morris, African Missionary to North America features interviews with historians, authors and representatives from Taylor University as well as historical photos and new graphic illustrations that bring the story to life. Discover the amazing true story of Samuel Morris in this engaging and comprehensive documentary.
"Samuel Morris: The African Missionary to North America is highly recommended" – Wisconsin Bookwatch
"His talent for sparking a spiritual awakening in others carried over to his time in New York City with missionary Stephen Merritt, and later to Taylor University in Indiana, where his reputation spread beyond the campus to local churches, both black and white. Morris's extraordinary tale is told here using a combination of archival materials, drawings, and interviews with historians. Highly recommended." – Video Librarian
58 minutes on 1 disc / 2012 / 16×9 / English and Spanish w/English, Spanish and Mandarin sub-titles.
HOW TO ORDER:
Public Performance and Digital Site Licenses are available through Soundview Media Partners. To inquire or to place an order, write to info@soundviewmediapartners.com or simply choose from the options below:
For group screening prices, please inquire.
In-home/personal use copies are available on Amazon: http://amzn.to/2pyPpQH
WATCH THE TRAILER
.