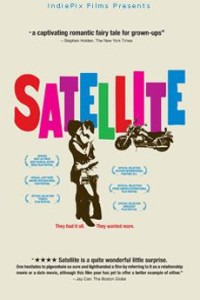 In SATELLITE, a chance encounter prompts a young couple to forsake everything they know in the hopes of truly experiencing life as never before in director Jeff Winner's (YOU ARE HERE*) reckless romantic drama. After meeting and falling in love over the course of a weekend, Kevin (Karl Geary, THE BURROWERS) and Ro (Stephanie Szostak, IRON MAN 3, R.I.P.D., THE DEVIL WEARS PRADA, DINNER FOR SCHMUCKS) vow never to lie to each other and to dare each other to do the things they fear most.
As the new pair hastily abandon their jobs, sell their possessions, and bet everything they have on love, reality rears its ugly head in the form of a secret Ro carries—if revealed, it could destroy their relationship.
"A captivating romantic fairy tale for grown-ups" – NY Times
A festival favorite:
Ashland Independent Film Festival (Ashland, United States)
BendFilm (Bend, United States)
Cinequest Film Festival (San Jose, United States)
Madrid International Film Festival (Madrid, Spain)
Starz Denver Film Festival (Denver, United States)
Tribeca Film Festival 2005 (New York City, United States)
Victoria International Film Festival 2005 (Victoria, Canada)
Directed by Jeff Winner / 100 minutes on 1 disc / English Language
HOW TO ORDER:
Public Performance and Digital Site Licenses are available through Soundview Media Partners. To inquire or to place an order, write to info@soundviewmediapartners.com or simply choose from the options below:
For group screening prices, please inquire.
In-home/personal use copies are available on Amazon: http://amzn.to/21qsIYP
Watch the trailer