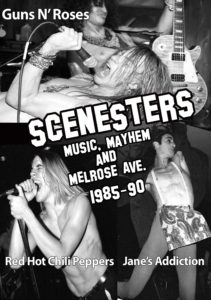 Many music scenes are best known for a type of music that emanated from that scene. 1985-1990 Los Angeles was very different…
SCENESTERS captures the moment in time when Punk, Glam, Hard Rock, Alternative, Garage, and Metal all collided and meshed in Los Angeles in the mid 80s.
Featured are the first-hand accounts of people who were completely submerged in the culture… people who changed the rules of fashion, set the scene, and made Melrose Avenue ground zero for bands like Guns N Roses, Jane's Addiction, and The Red Chili Peppers.
This ushered in a lifestyle of hard living and lots of partying. Hear from those SCENESTERS who lived through it all to tell tales of the legendary LA scene 1985 – 1990. Among those interviewed are: Paul Roessler, Bruce Duff, Bernie Bernstein, Bryan Forsythe, Taime Downe, Greg Steele, Susan Hyatt, Abby Travis, Brian Grillo, Kevin Kipnis, Josh Feilds, Debra Diament, Dukey Flyswatter, Pat, Munzingo, Chreistopher Thorn, Joseph Brooks, and Micheal Stewart, all participants in the scene… all scenesters themselves…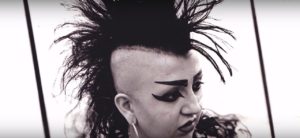 Intertwined within these extensive interviews is a soundtrack that digs deep into the music, providing an inside listen to this most unique time in rock genre development and evolution. Included are
The Fell Popes – 2am @ 9th and grand
T.S.O.L. – Sound Of Laughter
Motley Crue – Live Wire
Van Halen – 316
AC-DC – Let There Be Rock
The Ramones – I Wanna Be Sedated
The Cult – She Sells Sactuary
Wire – A Touching Display
Elvis Costello and the Attractions – Pump It Up
B-52's – Rock Lobster
Britny Fox – Long Way To Love
Specimen – The Beauty of Poison
Faster Pussycat – Where There Is A Whip
New York Dolls – Personality Crisis
The Ramones – Blitzkrieg Bop
The Dead Boys – Sonic Reducer
Hanoi Rocks – Tragedy
Aerosmith – No Surprise
The Germs – Caught In My Eye
The Sex Pistols – God Save The Queen
Devo – That's Good
Poison – Talk Dirty To Me
Depeche Mode – Everything Counts
Culture Club – i'll Tumble 4 U
Bauhaus – Bella Lugosi Dead
Celebrity Skin – Hello
New York Dolls – Pills
Directed by Desi Benjamin / 81 minutes / 2016 / color & b/w 
HOW TO ORDER:
Public Performance and Digital Site Licenses are available through Soundview Media Partners. To inquire or to place an order, write to info@soundviewmediapartners.com or simply choose from the options below:
For group screening prices, please inquire.
In-home/personal use copies are available on Amazon: http://amzn.to/2iDfCZM
WATCH THE TRAILER