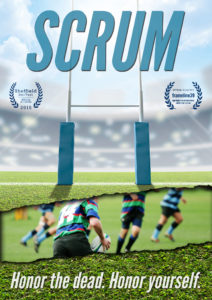 "Cinematic and deeply poetic, Scrum smashes stereotypes." — Screen Australia
Mark Bingham, a rugby fanatic and openly gay man, was on United Flight 93 on September 11, 2001 when terrorists hijacked the plane. Mark, along with a few other passengers, managed to crash tackle the terrorists in an effort to regain control of the plane. Despite their efforts, the flight went down in the fields of Pennsylvania. No one survived.
In Mark's memory, the Bingham Cup, an international gay rugby world cup was founded. Now, the Sydney Convicts, the defending champions, are hosting that Cup. Charlie, the coach of the Convicts A team, is tasked with choosing the winning combination of fifteen players from more than one hundred hopefuls. Being a part of the Convicts means that you're more than a team: you're brothers. And it's that sense of brotherhood that pushes the players to do whatever it takes for their team, for their club, and for gay rugby.
Scrum takes the audience on an intimate journey into the lives of these men as they prepare physically and mentally for the grueling tournament.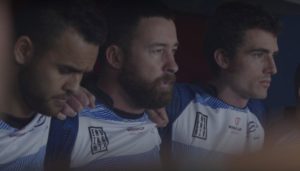 "If you get the chance to see Scrum grab it with both hands and run like hell to the finish line because this is one documentary that scores goals on all levels. Highly recommended." — Same Same
"Scrum might technically refer to restarting a play in order to gain control of the ball, but it's really about a group of guys packing close together in one place—in this case, gay rugby's 7th Annual Bingham Cup in Sydney, with 1,000 participants from 15 countries." – Letterboxed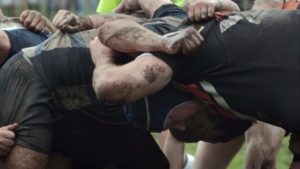 International festival play has been extensive since the film's initial release and includes
Queersicht LGBTI Film Festival, Bern – Switzerland
NewFest LGBT Film Festival, New York
MIX Copenhagen LGBTQ Film Festival, Copenhagen
Outfest, LA
Pride in Victorian Sport, Melbourne
Mardi Gras Film Festival, Sydney
New Orleans Film Festival
Homochrome, Dortmund
Homochrome,Cologne
Scottish Intl. Queer Film Fest, Glasgow
Montreal World Film Festival
Frameline 39, San Francisco
Sydney Pride Festival
Sheffield Doc Fest
"Scrum pulls the viewer right into the sweaty, grueling Bingham Cup, becoming not only a dramatic competition film, but also a film that finds the heart of the sport's universal themes: acceptance, teamwork, and mud-soaked male camaraderie." — Brian Bromberger, San Francisco Frameline39
2015 / 55 minutes / Produced and directed by Poppy Stockell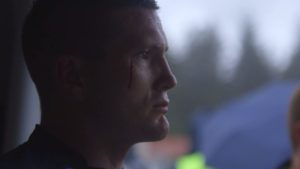 HOW TO ORDER:
Public Performance and Digital Site Licenses are available through Soundview Media Partners. To inquire or to place an order, write to info@soundviewmediapartners.com or simply choose from the options below:
For group screening prices, please inquire.
Watch the trailer