As seen on PBS
Locked away for centuries, The Secret Files of the Inquisition are brought to life in this blockbuster hit series in a Special Director's Cut Edition that includes scenes never broadcast.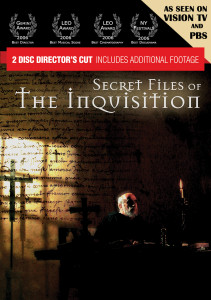 The Secret Files of the Inquisition is the gripping tale of faith and fervor, torture and courage, the fight for human rights, and the quest for religious freedom told over four amazing HD hours for the very first time. With never before seen extra material, this incredible production comes to life on screen.
"Why God made docudramas" – Bloomberg News
Every gruesome detail of the period was documented by the Catholic Church in the 'Files'. In 1998, more than 700 years after the Inquisition began, the Vatican granted access to the archive. Secret Files now uncovers the truth behind the most notorious suppression in religious history.
Narrated by actor Colm Feore, the 4-part docudrama portrays true stories of the tragic victims of religious intolerance and the oppression , spanning time periods and locations from medieval France, to 15th century Spain, Renaissance Italy and even into the 19th century. Secret Files is at once epic and intimate, focusing on compelling characters in the 600-year drama, from the ruthless architects of the Inquisition to its helpless victims.
Each episode of the series features first person testimonies from the files – verbatim accounts from nobles and peasants, priests, scholars, mothers and fathers defending themselves and their families against accusations of heresy, literally arguing for their lives.
The series was shot in HD in Spain at historic locations including castles, monasteries and cathedrals. More than six hundred extras were engaged in the production. It includes commentary from Catholic theologian Rev. Joseph A. Di Noia, Undersecretary of the Congregation for the Doctrine of the Faith at the Vatican, according to The Guardian (London) "possibly the highest ranking Vatican official ever to be interviewed publicly on the subject."
Secret Files of the Inquisition also includes insights from some of the world's foremost writers and researchers on the Inquisition. It has won many awards for Best Direction, Cinematography, Original Score, and even the Gold Medal for Docudrama from the New York Festivals.
"Couldn't be more timely" – Wall Street Journal
"Too terribly true" – Hollywood Reporter
"A ringing resonance for us today" – Globe and Mail
"…an intelligent series that personalizes the larger subject with individual case studies. Recommended" – Video Librarian
Bonus Materials
17-minute interview with a top Vatican official
3 separate fully edited behind the scenes 'making of' shorts
A four-minute overview that summarizes each episode
Biographies of all of the experts who contributed to the films
240 minutes on 2 discs / 2006 / Color / A docu-drama by David Rabinovitc
HOW TO ORDER:
Public Performance and Digital Site Licenses are available exclusively through Soundview Media Partners. To inquire or to place an order, write to info@soundviewmediapartners.com or choose from the License Options listed below:
In-home/personal use copies are available on Amazon $24.98 SRP: http://amzn.to/1NdQYYt
WATCH THE TRAILER