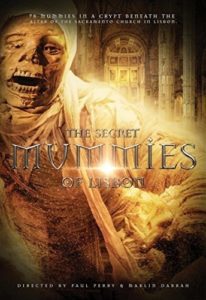 At the request of the Catholic Church in Lisbon, members of the Royal Archaeology and Historical Association (RAHA) of Portugal excavated 78 mummies from a crypt beneath the altar of the Sacramento Church in Lisbon. They were given a mere 3 days to work.
In addition to the mummies, during the course of excavation the researchers found handwritten books, indications that there was a large amount of treasure somewhere near the mummy crypt. They also discovered the exotic history of many of the mummies, including one known as 'The King of the Congo.'
About the church:
At first a small chapel, by 1750, it was a grand Baroque church. However, like much of the surrounding area, it was completely destroyed by the earthquake that devastated Lisbon on November 1, 1755. The current church was designed by the architect Reinaldo Manuel dos Santos and opened in 1784 as part of the reconstruction of the Portuguese capital as planned by the Marquis of Pombal. Further restoration work on the church meant that it only reopened in 2009 after over 20 years of repairs. One of the highlights for visitors to the church is a crypt of the mummified bodies, the subject of this film.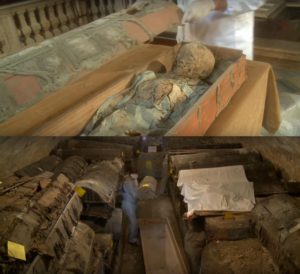 2017 / 50 minutes / English language / A film by Paul Perry and Marlin Darrah
HOW TO ORDER:
Public Performance and Digital Site Licenses are available through Soundview Media Partners. To inquire or to place an order, write to info@soundviewmediapartners.com or simply choose from the options below:
NOTE: The DVD version of this film will be delivered as a DVD-R only. It is not commercially packaged.
For group screening prices, please inquire.
In-home/personal use copies are available on Amazon: https://amzn.to/2xQka72
WATCH THE TRAILER