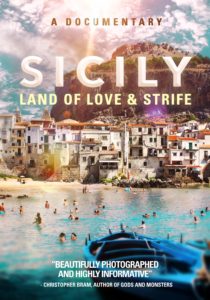 "Filmmaker Mark Spano hosts this wide-ranging, lush tour of Sicily, described as an island state whose cosmopolitan culture as a crossroads of the West (invaded and affected over millennia by everyone from the Romans to the "Viking" Normans) goes unappreciated by many outsiders. Sicilian society is hailed not only for giving pasta to the world, but also maintaining a racially and LGBT-tolerant atmosphere. Some interviewees (authors interviewed include Joseph Farrell, Andrew Edwards, and John Dickie) even speculate that the reputedly severe Catholic heritage is—like legendary Sicilian puppet shows—more theatrical than anything else (local patron Saint Agatha had her breasts tortured in her martyrdom, so mammary-shaped cakes are presented as a tribute). Although more time is spent on volcano eruptions than Sicily's infamous organized-crime syndicates, everyone here disdains the Mafia (traced in folklore to a trio of long-ago Spanish knights gone rogue) and vows that the longstanding protection-money tradition ("pizzo") is on its way out. Still, even Palermo mayor Leoluca Orlando (lit as menacingly as a Don in a gangster movie) admits that hardly any economic project can be done legitimately in the local bureaucracy. While there is no mention of legendary bandit Salvatore Giuliano, of Mario Puzo's bestseller The Sicilian, a visit is made to the ornate museum of nobleman-author Giuseppe Tomasi di Lampedusa. Making an offer that travel shelves cannot refuse, this is highly recommended." – Video Librarian (March 2019)
Broadcast Premiere: KCPT (Kansas City PBS) on 12/10/18
Travel to a place relatively unknown to the public. A land of spectacular beauty, epic human struggle, depth and diversity of culture, philosophic insights and historical significance. A land that is also often misunderstood.
SICILY: LAND OF LOVE AND STRIFE
Possibly the most in-depth film study ever produced about the island, Sicily: Land of Love and Strife takes the viewer to a place more fascinating and more diverse than any other Italian region. The most invaded place on the planet, the three-sided island rivals Greece and Egypt as a primary source for Western ideas. The film, written, produced, and directed by Mark Spano covers a plethora of subjects including the island's history, culture, geography, art & architecture, music, religion, agribusiness, wine making, myths and most of all, its people. And oh, yes… its food!
Because of the island's great and beautiful natural abundance, and its strategic location in the Mediterranean, at the crossroads of Europe, Africa and Asia, ownership of this rugged and fertile island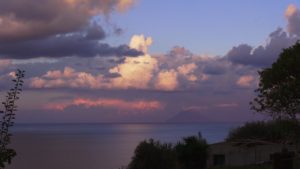 has been contested for millennia. And, the myths surrounding Sicily and organized crime are widespread… …but the island's association with the Mafia, so deeply entrenched in popular consciousness, has obscured the more rounded and accurate depictions of its history and culture.
The film's stunning cinematography is only rivaled by its depth of information. From the mountains to the farms to the volcanoes to the historic architecture and the many faces of Sicilians, Sicily: Land of Love and Strife presents a broad-spectrum portrait of the island, its history and its contemporary place in the world today.
Christopher Bram, author of Gods and Monsters, observes, "Sicily: Land of Love and Strife is a terrific documentary, beautifully photographed and highly informative. Like a great travel book full of wonders. You never know what will appear next: volcanoes, Greek ruins, olives, The Leopard, pastry, and the Mafia of course… It's a profound look at life."
"Sicily, Land of Love and Strife" is an extraordinary documentary. Spano committed himself exhaustively to bring us the visual dynamism of Italy's largest region." – Primo Magazine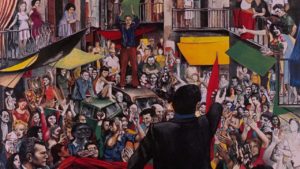 Mark Spano interviewed 75 people for the expansive production… from historians to educators, farmers to winemakers, luthiers to geologists, activists, authors and more. Included among them:
John Dickie, British Scholar and author of many books about Sicily
Giovanni Morreale, Founder and Publisher of Times of Sicily
Leoluca Orlando, Mayor of Palermo and Anti-mafia activist
Giovanni Mazzarino, World reknowned Sicilian Jazz Musician and Music Teacher
Gioacchino Lanza Tomasi, Scholar of Opera and the Evolution of Modern Italian Lyric Theater
Joseph Farrell, Scottish Scholar; Author of Sicily: A Cultural History
Giuseppe Severini, Lute maker and proponent of Medieval and Renaissance music
Andy & Suzanne Edwards, Authors of a Literary Guide to Sicily
Michela Mussolino, Sicilian-American Folksinger
Karen La Rose, Certified Italian Wine Specialist
Giuseppe Li Rosi, Sicilian Organic Farmer and Cooperative Manager
Carmelo Giafriddu, Geologist and Mount Etna Expert
Edoardo Zaffuto, Spokesperson for the anti-mafia organization Addio Pizzo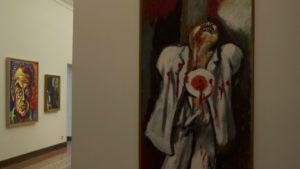 Employing both contemporary and classical approaches to photographic artistry and filming with state-of-the art, high-definition, digital technology, Sicily: Land of Love and Strife brings to life the great dichotomy that is Sicily.
About Mark Spano
Mark Spano has over thirty years experience in film and television production, performing arts, and writing. He is presently developing a cooking series on authentic Sicilian food. He is a contributing editor for magazine Times of Sicily. Spano's novel entitled Midland Club has received two awards and significant critical acclaim. In January 2018, he adapted Midland Club for the screen at an artist's residency in Seaside, Florida.
Mark has produced Carolina Countryside, a weekly public television series that additionally broadcast on Discovery Home and Leisure. He produced, directed and wrote The Quality of Light: A Biography of Claude Howell as well as several successful pledge specials for public television.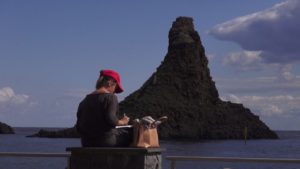 As Executive Director of a Florida-based performing arts venue, he's been raising the quality of national acts brought into the Tampa Bay area, presenting Jazz and Classical artists ranging from Chick Corea to the Chamber Music Society of Lincoln Center.
Mark holds an MBA from Marymount University of Virginia and an MA from the American University in Washington, DC. He also holds dual US/Italian Citizenship.
A 2017 production / 81 minutes / Color / English Language
HOW TO ORDER:
Public Performance and Digital Site Licenses are available through Soundview Media Partners. To inquire or to place an order, write to info@soundviewmediapartners.com or simply choose from the options below:
For group screening prices, please inquire.
Are you a consumer? Here are some links to help you…
The DVD can be ordered on Amazon: https://amzn.to/2MKpxOi.
Prefer to stream or download the film? Visit https://amzn.to/2DBZ1lN
For interested parties who like to read, the paperback related to the film, entitled "Sicily: Land of Love and Strife – A Filmmaker's Journey" is available on Amazon: https://amzn.to/2PlVQBb
The ebook is avail: https://amzn.to/2SQUbWf
And the audiobook can be found at https://amzn.to/2qZXOwc
WATCH THE TRAILER