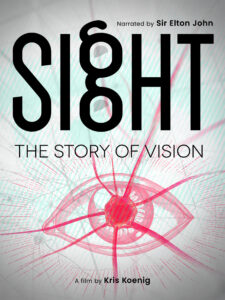 Digital licensing available now. DVD's available late February 2022.
Narrated by Elton John.
Originally broadcast on PBS.
From filmmaker Kris Koenig, known for such films as 400 Years of the Telescope and Assaulted: Civil Rights Under Fire, comes a scientific exploration into our eyes.
Sight is arguably our most important sense, an extremely complex process, which requires light that can start with photons, generated in distant stars and ending in the visual cortex of our brains. In the middle of this process are our eyes.
Sight: The Story of Vision is an in depth look at the science, medicine, and technology of vision and individuals who are battling blindness.
The film traces the progress in eyecare and vision solutions over the past 800 years, as well as the growing worldwide vision crisis and efforts undertaken by individuals and organizations to resolve it.
"SIGHT reminds all of us what the vision care industry, optometry and eye medicine is truly for: to give human beings the best possible vision, enable them to see the world, and contribute to the progress of humanity by improving lives through our products and services." – Jens Boy, President of ZEISS Vision Care in North America
Documentary / 56 minutes / English / A film by Kris Koenig
HOW TO ORDER:
Public Performance and Digital Site Licenses are available through Soundview Media Partners. To inquire or to place an order, write to info@soundviewmediapartners.com or simply choose from the options below:
For group screening prices, please inquire.
In-home/personal use copies are available on Amazon: https://amzn.to/3HmmXGB
Watch the trailer: