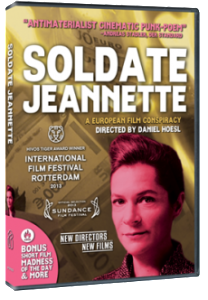 Fanni has had enough of money and Anna has had enough of pigs. Fanni leaves the city and her pearls behind, while Anna is stuck wearing muddy overalls. When they finally cross paths, they embark on a punk adventure towards Marxist liberty.
A film by Daniel Hoesl
Winner Best Film / Rotterdam International Film Festival
Official Selection / Sundance Film Festival
"Channeling the aesthetics of a tasteful European art film, yet thumbing its nose at haute-bourgeois institutions, Soldate Jeannette depicts the disillusioned failure of materialism as it pushes its grass-is-greener agenda. Ostensible enfant terrible Daniel Hoesl sets up his own progressive dilemmas, as well, focusing more on visuals than content to explore the repulsion and allure of both urban and pastoral life vis-à-vis two women moving past each other in diametric life directions" – Slant Magazine
"Hoesl and his collaborators are trying something bold as soldiers of cinema. Soldate Jeannette is certainly not for all tastes, but it is some kind of statement." – Hollywood Reporter
80 Minutes / French & German w/English Sub-titles / Bonus includes short film "Madness of the Day" and more.
HOW TO ORDER:
Public Performance and Digital Site Licenses are available through Soundview Media Partners. To inquire or to place an order, write to info@soundviewmediapartners.com or simply choose from the options below:
For group screening prices, please inquire.
In-home/personal use copies are available on Amazon: http://amzn.to/1Y4HG72
Watch the trailer: