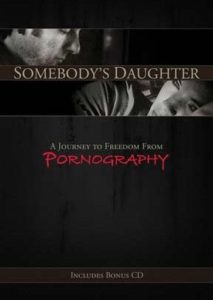 A journey to freedom from pornography.
Pornography is one of the most difficult moral challenges of our time. What was once considered obscene is now a multi-billion dollar industry increasingly becoming the norm within mainstream culture. Because of the internet with its accessibility, anonymity, and affordability, pornography addictions have risen to epidemic levels, destroying intimacy, marriages and families, while distorting our definition of sex and sexuality.
Watch – and listen – as three men and a husband and wife share their intensely personal struggle of how pornography crept in and ravaged their lives. From abuser to victim, its introduction seemed harmless but proved to be an infectious destroyer. The groundbreaking DVD/CD, Somebody's Daughter, confronts the darkness and lies of this alluring vice with compelling honesty and hope.
From the DVD documentary surrounded by relevant and poignant music videos to the bonus CD featuring original songs, more personal stories, poetry and readings, you'll find this unique combination creates a life-giving journey to freedom . . . a journey that leads us into the light and celebrates the dignity of every human being. Widescreen.
Somebody's Daughter – "is worth its weight in gold and should be shown to men's gatherings in every church in America, with candid conversations immediately following!" – David Bryant of Proclaim Hope
Multi award winning including
Bronze Telly Award for Best Documentary
Storyteller Award / Redemptive Film Festival
Special Jury Award & Remi Gold / Worldfest Houston Awards
Bronze Crown Award for Best Music Video / International Christian Visual Media Association
Bronze Crown Award for Best Youth Film / International Christian Visual Media Association
"This project is so well done that it's almost overwhelming." – Tim Wildmon – President, American Family Association
"I've seen everything that's out there on the issue of sexual addiction and there is nothing that even comes close to this." – Michael Leahy – Author of Porn Nation
"The Somebody's Daughter DVD is by far the best artistic presentation available to help people who have struggled with pornography or to help prevent that struggle in their children's lives." – Dr. Doug Weiss – Heart2Heart Counseling Center
"This is by far the best video production regarding this matter I have ever seen. It is a powerful tool to communicate a very real struggle and the message of hope and recovery." – Julie Shermatz – CEO, Beauty from Ashes Ministries
"Tastefully and masterfully done, Somebody's Daughter is a must-see for every man in America. It combines intimacy and transparency like no other video I've ever seen on the subject." – Roy Abbott – President, Focal Point Ministries
"Somebody's Daughter helps us see clearly the immeasurable harm done to the texture of human lives by making women serve as the stimulus and the fulfillment of sexual lust. That this "thing" being used before us is Somebody's Daughter calls us back to relationships of respect and care that make "love" a meaningful word again." – Dallas Willard, Ph.D. – Professor of Philosophy University of Southern California, Christian speaker, and author
"We are happy to link arms with Steve in the battle against pornography and the strengthening of individuals, marriages, and families across the nation." – Rick Schatz – President and CEO, National Coalition for the Protection of Children & Families
Special Features:
DVD
-Documentary – five individuals share their journey to freedom from pornography
-Optional English subtitles (documentary)
-Four Music Videos: Never Shake His Hand, Losing Ground, Somebody's Daughter, Free
Bonus CD
-Nine topic specific songs
-Personal stories
-Interviews
-Readings
62 minutes on 1 disc + CD / Widescreen / Optional English sub-titles / 2008
HOW TO ORDER:
Public Performance and Digital Site Licenses are available through Soundview Media Partners. To inquire or to place an order, write to info@soundviewmediapartners.com or simply choose from the options below:
For group screening prices, please inquire.
In-home/personal use copies are available on Amazon: http://amzn.to/2pm14Dn
WATCH THE TRAILER