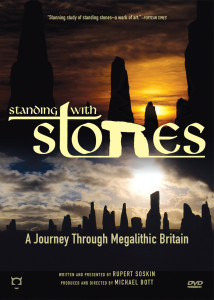 There are about 1,000 stone circles in the British Isles. If you include other megalithic monuments such as stone rows, long barrows, cairns, cists, standing stones and others, the number runs to tens of thousands. Yet most people can only name one: Stonehenge.
STANDING WITH STONES is a unique filmed journey in which presenter Rupert Soskin and director Michael Bott discover the wealth that is Megalithic Britain.
More than two years in the making, this broadcast-standard film, written and presented by explorer and naturalist Soskin, takes you from the tip of Cornwall to the Scottish Isles on an unforgettable journey through the landscape of our ancient past.
Made by just two men with fantastic film making skills, a camper van and a passion for the standing stones and other monuments left to us by Neolithic and Bronze Age ancestors. The result is a remarkable feature length documentary film that takes the viewer on a journey of discovery, uncovering the true extent and variety of megalithic Britain and Ireland.
"Offering outstanding views of dozens of sites, boasting quaint names like the Nine Ladies, the Hurlers, and Long Meg and Her Daughters, this fascinating documentary features DVD extras including interviews with the filmmakers and outtakes. HIGHLY RECOMMENDED." – Video Librarian
136 minutes on 1 disc
HOW TO ORDER:
Public Performance and Digital Site Licenses are available through Soundview Media Partners. To inquire or to place an order, write to info@soundviewmediapartners.com or select from the License Options below:
For group screening prices, please inquire.
In-home/personal use copies are available on Amazon: http://amzn.to/1cWj9Hw
WATCH THE TRAILER