"Hip hop's Rosetta Stone" – Vibe
"Anybody who wants to understand what hip hop is all about needs to see a movie called Style Wars." -KRS-One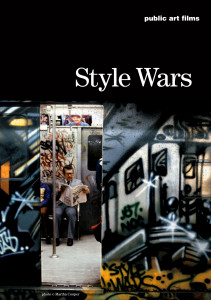 When director Tony Silver and co-producer Henry Chalfant delivered the broadcast version of their prize-winning film to PBS in 1983, the world received its first full immersion in the phenomenon that had taken over New York City. The urban landscape was physically transformed by graffiti artists who invented a new visual language to express both their individuality, and the voice of their community. In STYLE WARS, New York's ramshackle subway system is their public playground, battleground, and spectacular artistic canvas. As MC's, DJ's and B-boys rock the city with new sounds and new moves, we see street corner breakdance battles turn into performance art.
Disc 1 – The Film/ The Filmmakers:
Over 23 min of original outtake footage
Featured commentary by director-producer Tony Silver and producer Henry Chalfant
Interview with Tony Silver and Henry Chalfant (2002)
Interview with Style Wars editors Victor Kanefsky and Sam Pollard (2002)
Digitally remastered 5.1 Dolby soundtrack featuring classic tracks from Grandmaster Flash, The Treacherous Three, Trouble Funk, The Fearless Four, Rammellzee vs. K-Rob + more
Disc 2 – Hall of Fame:
32 artist galleries including new interviews, trains and rare photos of Blade, Cap, Cey, Crash, Crazy Legs, Daze, Dez, Dondi, doze, Duro, Duster, Frosty Freeze, IZ th Wiz, Kase 2, Kel Swift, Lee, Mare 139, Min One, Noc 167, Paze (Erni), Pink + many more
Tributes to Dondi and Shy 147
Guest interviews: Fab 5 Freddy, Goldie, Guru, DJ Red Alert, photographer Martha Cooper and Mayor Ed Koch.
'Destroy all Lines' 30 min. loop of over 200 whole cars and burners
Featuring music from: Def Jux recording artists El-P, RJD2 and Aesop Rock, plus Mr. Wiggle Kimson 'Angola-Red' Albert, and Darryl Jenifer
"Stunning 1983 film of graffiti artists risking their lives to get fame by painting New York's subway." – Rolling Stone
"A breakthrough documentary. Pulses with energy." – New York Times
"No film better documents the birth of a movement that continues to inspire young people all over the world." – Big Shot
1983 restored in 2005 / 280 minutes on 2 discs / A film by Tony Silver
HOW TO ORDER:
Public Performance and Digital Site Licenses are available through Soundview Media Partners. To inquire or to place an order, write to info@soundviewmediapartners.com or simply choose from the options below:
For group screening prices, please inquire.
In-home/personal use copies are available on Amazon: http://amzn.to/1XwZTMd
A. O. Scott (Times) reviews the 1982 documentary about rap, break-dancing and graffiti that found beauty in New York City's bad old days.

Watch the trailer