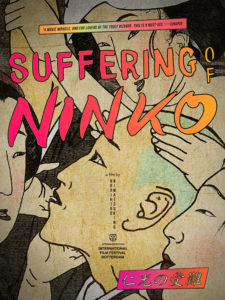 "I loved it..so far it's the best film I've seen this year" – Dan Pearson for WBIA-FM
A combination of stunning period live action and ukiyo-e and mandala animation!
"Just when you start thinking that the world is going to corporate hell in a handbasket, a film like Suffering of Ninko arrives to remind you that the independent spirit is alive and kicking… Suffering of Ninko is fabulous in the original sense of the word. It's the kind of tale that Aesop might have cooked up after hours and after one too many ouzos. Norihiro Niwatsukino has created an erotic myth, a steamy ghost story that delivers an important message about the difference between self-repression and asceticism. In the monk Ninko he creates a character that is torn between what he wants to do, and what he refuses to do. And in both cases, it's the same thing." – My Reviewer (U.K)
"A movie miracle, and for lovers of the truly bizarre, this is a must-see." —V.N. Pryor, Cinapse
An erotic fantasy set in Japan's Edo period introduces a sexually irresistible Buddhist monk struggling to stay virtuous as he begins to have strange carnal dreams. Ninko (Masato Tsujioka), a young Buddhist monk, has a serious problem; women (and some men) find him sexually irresistible.
After a troubling encounter with a naked masked woman, he sets out on a journey to purify himself of these sexual advances and haunting fantasies. One day, he arrives in a village decimated by mountain Goddess, Yama-Onna, who seduces and kills the men of the valley… whereby Ninko has met his match.
"For those with a taste for the unusual, SUFFERING OF NINKO should prove a delectable, perhaps even sumptuous treat. While hardly the nuttiest Asian supernatural film set in ancient Japan that I've ever seen, it easily ranks as one of my more keenly unusual movie-watching experiences… Old-fashioned storytelling blends with modern sex and violence to create a unique viewing experience… Those indulging in this enticing buffet of ancient Japanese delights will be well served." – Movie City News
"We're in the ancient Japan of the Hyaku-monogatari (the classical ghost-story anthology The Hundred Tales), but you've never seen a Japanese period movie like this before… Niwatsukino's wildly enjoyable debut is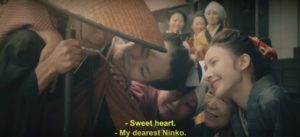 crammed with humor and visual surprises. At a time when 95% of Japanese indies are about the emotional and sexual-identity problems of young people, it is (to say the least) refreshing to find a movie that goes for broke with a subject that blows genre conventions apart while offering gutsy storytelling, vivid performances and a fabulous sense of cinema's possibilities. Buddhists will love it, but so will most everyone else." —Tony Rayns, Vancouver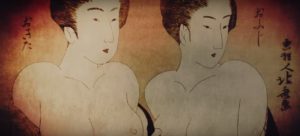 IFF
"Noirhio Niwatsukino's debut feature, Suffering of Ninko, is using different period styles to accentuate different aspects of the film's taut 70-minute narrative. Heian styles punctuate the narrative beats while Shunga are positioned as Ninko's fantasies; other, more colorful and religious-themed, Ukiyo-e prints are used in Ninko's meditations. Eventually these styles start mixing together as Ninko experiences more fervent and demented dreams. This is all mixed into a rich cinematography that feels covered in a deep haze and strategically uses fisheye lenses and CGI shots to layer in the surreal mythic mood of the film. These choices turn the film into an erotic myth, a lurid fairy tale, elevating the material to heights the story itself would otherwise not reach." – Film Pulse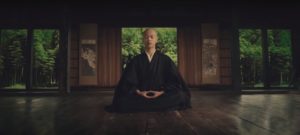 "Inspired by the classical nature of the tale, Niwatsukino makes striking use of animation inspired by scroll paintings, ukiyo-e prints, and shunga all accompanied by the gentle voice of the narrator to add to the mythic atmosphere." – Windows on World
"Undoubtedly strange but also fascinating, Suffering of Ninko's unique qualities make it a strong optional purchase for more adventurous collections." – Video Librarian
Asia Premiere in Busan International Film Festival
World Premiere in Vancouver International Film Festival
Japan Premiere in TOKYO FILMeX International Film
Official Selection at Rotterdam International Film Festival
For the dark humor-obsessed
For admirers of Ukiyo-e woodblock prints
For fans of Kaidan ghost stories
Official Selection New York Asian Film Festival
70 minutes on 1 disc / color / 16×9 / 2016 / Japanese with English Subtitles / A film by Norihiro Niwatsukino
HOW TO ORDER: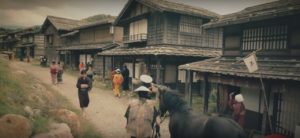 Public Performance and Digital Site Licenses are available through Soundview Media Partners. To inquire or to place an order, write to info@soundviewmediapartners.com or simply choose from the options below:
For group screening prices, please inquire.
In-home/personal use copies are available on Amazon: https://amzn.to/2I6FGZi
WATCH THE TRAILER