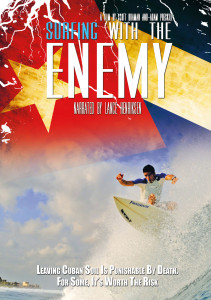 Leaving Cuban soil is punishable by death. For some, it is worth the risk.
Surfing With The Enemy is the story of a group of surfers from Havana struggling to establish a niche for their sport in Cuba's overly restrictive society. Guided by Eduardo Valdes, founder of the Havana Surf Association, two filmmakers from Venice Beach, California, travel across the island to the wave-rich but ill-famed Guantanamo province, home to the U.S. Naval Station at Guantanamo Bay. Chasing waves along this controversial coast, they discover a forbidden paradise just miles from their own border, and learn what it means to be a surfer and a citizen of modern-day Cuba.
A film by Scott Braman and Adam Preskill featuring a never-before-seen look at Cuba with an underground Cuban music soundtrack.
56 minutes on 1 disc
"Surfing With The Enemy explores the wide disparity between current Cuban youth subculture contrasted with the official positions espoused by government representatives. This remarkable film takes to the road, presenting a unseen view of rural Cuba, and ultimately reaching the mouth of the
Yumuri River in the ill-famed Guantanamo Province, home for one of Cuba's best waves and one of the first places Columbus landed in the New World. In ways never before seen, Surfing With The Enemy profiles a unique group of individuals struggling to live their dreams, to uncover the surfing potential of this unexplored island nation, to provide a glimpse at what life is like for citizens of modern-day Cuba, and to encourage the audience to consider the underlying themes of youth vs. authority, freedom vs. restriction, and the power of sports to break down boundaries of all kinds." – Culture Unplugged
HOW TO ORDER:
Public Performance and Digital Site Licenses are available through Soundview Media Partners. To inquire or to place an order, write to info@soundviewmediapartners.com or select from the License Options below:
For group screening prices, please inquire.
In-home/personal use copies are available on Amazon: http://amzn.to/1RmgHQu
Watch the trailer