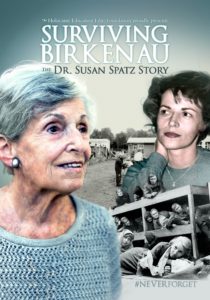 From humanity's darkest moments came survival. From survival came light and the blooming of a new life.
"3.5 Stars. A powerful portrait of a lively Holocaust survivor, this is highly recommended. – T. Keogh, Video Librarian
The Holocaust Education Film Foundation proudly presents "Surviving Birkenau," the story of Dr. Susan Spatz, née Eckstein, as told in her vivid and emotionally compelling own words at the age of 96.
Nominated for Best Documentary, Festival of Cinema New York (2019).
Born in Vienna in 1922, Susan Spatz was an only child who lived a life of privilege until the Nazis invaded Austria, and she and her mother found themselves "in the trap". Deported to Theresienstadt and ultimately interned at the notorious Birkenau death camp, Susan Spatz survived an astonishing three years before a long and brutal death march led her instead to liberation.
In "Surviving Birkenau", Susan recounts her experiences with remarkable clarity; a story that began in her teens when a decision by her mother condemned her to death, and cost Susan 3 years in unbearable Nazi concentration camps.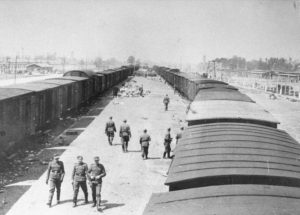 With the assistance of the United States Holocaust Memorial Museum, acclaimed filmmaker Ron Small (To Auschwitz and Back, Circle Unbroken) brings Susan Spatz's story to the forefront for generations to witness.
"With the rise of antisemitism again, schools need to start showing their students films like this…I had seen Ron Small's previous work, To Auschwitz and Back, before and he has a way of capturing the emotional journey with it being very educational on top of it. I wasn't familiar with Spatz's story and if you aren't either, check it out." – Nerds Templar
"Seeing something like this on the screen is not just a film but a total experience" – Amos Larsen
"A dramatic and at times terrifying gut-wrenching documentary about Susan Spatz, a woman born in 1922 who survived three years at one of the most infamous Nazi Concentration Camps." – Mike Spring, Live for Film
"I absolutely was riveted to hear every moment of it. There is a steadiness or perhaps defiance in her voice that would not allow her to give in to her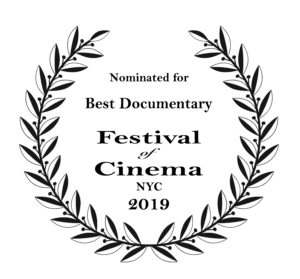 captors. There is nothing wrong with doing everything humanly possible to survive, and Susan makes that clear by the choices she made" – Jeri Jacquin, Patch.com
"The painful legacy of the Holocaust is never forgotten by keeping impactful stories alive through the medium of film" – ScaredStiffReviews
2019 / Approx. 1 hour / Color / 16×9 / A film by Ron Small
HOW TO ORDER:
Public Performance and Digital Site Licenses are available through Soundview Media Partners. To inquire or to place an order, write to info@soundviewmediapartners.com or simply choose from the options below:
For group screening prices, please inquire.
In-home/personal use copies are available on Amazon: https://amzn.to/2DNdHNZ Also available to stream if you prefer: https://amzn.to/2GoYnqR
WATCH THE TRAILER