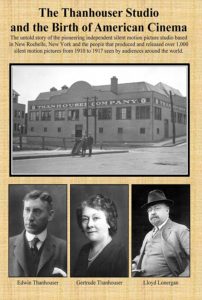 The Thanhouser Company was a trail-blazing studio based in New Rochelle, New York. From 1910 to 1917 it released over 1,000 films that were seen by audiences around the globe.
This 53-minute documentary reconstructs the relatively unknown story of the studio and its founders, technicians, and stars as they entered the nascent motion picture industry to compete with Thomas Edison and the companies aligned with his Motion Pictures Patents Corporation (MPPC).
Ned Thanhouser, grandson of studio founders Edwin and Gertrude Thanhouser, narrates this compelling tale, recounting a saga of bold entrepreneurship, financial successes, cinematic innovations, tragic events, the launching of Hollywood careers, and the transition of the movie industry from the East Coast to the West and Hollywood.
Some of the studio's biggest successes were the feature-length "blockbuster" The Star of Bethlehem (1912) and the popular serial The Million Dollar Mystery, starring Cruze and La Badie.
"This excellent documentary gives a detailed account of the rise and fall of this important studio" – Silent-ology
Remi Winner – Worldfest Houston
Winner Best Historical Documentary – Star Doc Fest
Nominated for Best Documentary Feature – Los Angeles Film Review
The acclaimed film will be of interest to scholars, archivists, early film historians, and everyone who loves the intriguing stories about the people who pioneered independent movie-making in America.
For a list of over 1000 films produced by The Thanhouser Studio visit IMDBpro
53 minutes on 1 disc
HOW TO ORDER:
Public Performance and Digital Site Licenses are available through Soundview Media Partners. To inquire or to place an order, write to info@soundviewmediapartners.com or simply choose from the options below:
For group screening prices, please inquire.
Consumer-Personal Use copies available on Amazon http://amzn.to/2in6k30
Watch the trailer