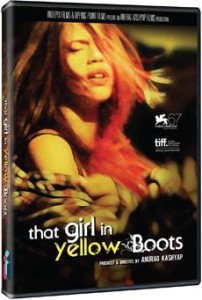 That Girl in Yellow Boots focuses on Ruth's quest to find her birth parents, specifically her father. She begins researching her family history after the passing of her mother and the suicide of her 15-year old sister.
Britain-based Ruth Edscer (Kalki Koechlin) goes on a birth parent search to Mumbai, India in order to locate her father, Arjun Patel. She manages to find employment in a massage parlor where she not only earns a wage, but charges Rs.1000 for the illicit behavior of her affluent male clients. Ruth works in the massage parlor and bides her time in India as she figures out the perfect way on to find family members and answers.
When she made aware that she cannot be hired for legitimate work until she is granted and official work permit, she begins to attend the Foreigners Registration Office in the hopes of extending her stay. Ruth begins to make herself more familiar with the culture and required 'donations. Challenges follows after a confrontation with Indian gangsters who not only assault her but also take away her savings.
While tracing her family tree she learns that her father had changed his name, is now known as Benjamin, and may be residing in a building called Versova. She does locate the building – but Ruth's journey to tracing her family history will give her a shock when she finds out who her father really is.
Directed by Anurag Kashyap
103 minutes on 1 disc / English and Hindi with English sub-titles
HOW TO ORDER:
Public Performance and Digital Site Licenses are available through Soundview Media Partners. To inquire or to place an order, write to info@soundviewmediapartners.com or simply choose from the options below:
For group screening prices, please inquire.
In-home/personal use copies are available on Amazon: http://amzn.to/2anq185
WATCH THE TRAILER