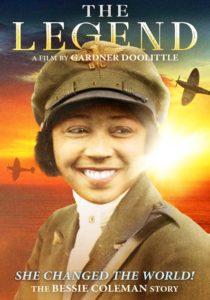 "In the quest to fulfill her dreams she was only hindered by being born in the wrong country – at the wrong time – of the wrong gender – and the wrong race. Other than that things were perfect."  – Filmmaker Gardner Doolittle
"This laudatory profile of a brave woman who broke the aviation color barrier, fought racism, and fostered African American pride tells an inspiring story." – Video Librarian
In 1921, a young woman arose from the poverty of the Texas cotton fields. She captured the hearts of the American Black population, teaching them to overcome not only the racial barriers of the time, but the barriers within themselves. She dared to dream and she challenged them to do so as well.
Her name was Bessie Coleman. And, for Bessie Coleman, the sky was the limit…
Elizabeth Bessie Coleman was born January 26, 1892 in the dusty farming town of Atlanta, Texas. She was the 10th born of 13 children. At the age of two her family moved to Waxahachie, Texas where jobs were more plentiful.
Growing up in the turn-of-the-century deep South had a profound effect on young Bessie. She was appalled at the way her people were treated and driven to "make something of herself" and in doing so help uplift the race. She didn't see that happening in the brutal conditions of Texas. In 1915 she moved to Chicago. While some Jim Crow Laws existed in the North, Chicago had something not to be found in the South… Opportunity.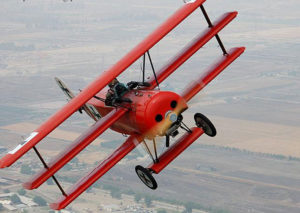 While WW1 was being fought in Europe, Bessie followed the news in the paper. She was fascinated by the daring exploits of the pilots flying airplanes. One day her brother, a veteran of the war, teased her about the many advantages of French women and how they were even learning to fly. A light flashed in Bessie's head. Her brother had unknowingly just charted her future.
Bessie needed to go to France to learn to fly. That would require a lot of money, but she considered this a minor problem – because the best way to get Bessie Coleman to do something was to tell her it couldn't be done!
Quitting was never an option for Bessie Coleman.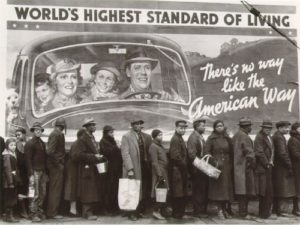 With the backing of two Black Chicago businesses, Bessie went to Somme, Crotoy France, where she was accepted as a student at the famed Caudron School of Aviation. She quickly established herself as a natural born flyer. On June 15, 1921, after an exhaustive 7 month course, Bessie Coleman was awarded an International Aviator's license and became the first Black in history to receive a pilot's license.
This achievement stunned many in White America who up until then considered Negroes incapable of flying airplanes, especially a woman Negro! Upon returning home with her prestigious accomplishment she learned nothing had changed in the United States – the aviation industry was still closed to Blacks.
But again, quitting was not an option for Bessie Coleman.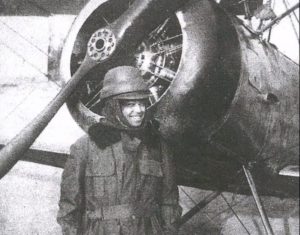 Bessie's first air show was at Glen Curtiss Field on Long Island, September 3, 1922. She designed it around a military theme to honor the 15th Army Regiment – the first Negro Regiment to fight in France during WW1. When Bessie made her entrance wearing a tailored leather flying suit, complete with Sam Browne belt, white silk shirt and knee high laced boots, the crown went crazy.
But Bessie Coleman was making more than a fashion statement; she was making a social statement to the many doors slammed in her face so far in her quest to fly.
"Here comes Bessie Coleman…like it or not!"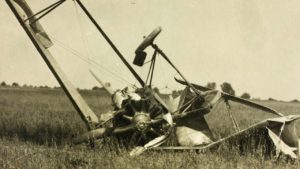 On April 30, 1926, while preparing for an upcoming show in Jacksonville, Florida Bessie was killed in a flying mishap.
Bessie Coleman's death overwhelmed the Black people of America in1926. Up until then she was an impetuous young woman striving to help elevate her race. She said what she wanted, to whom she wanted, and let the chips fall where they may – and in doing so unknowingly became the spokesperson for millions of silent voices.
It wasn't just Bessie's accomplishments, but her uncompromising courage and values that captured their hearts.
THE LEGEND: THE BESSIE COLEMAN STORY presents the story of a renowned young woman of vision and courage who, despite the persistent threats of racism, simply refused to compromise herself, her principles and her race!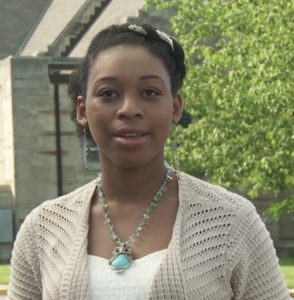 Bessie Coleman didn't make excuses; she was too busy making history!
OFFICIAL SELECTION: GREAT LAKES INTERNATIONAL FILM FESTIVAL (2018)
Produced and directed by Gardner Doolittle (Wings of a Warrior: The Jimmy Doolittle Story). Hosted and portrayed by Aneva Walker.
A 2017 Production / 107 minutes  / 16×9 / Color and Black and White
HOW TO ORDER:
Public Performance and Digital Site Licenses are available through Soundview Media Partners. To inquire or to place an order, write to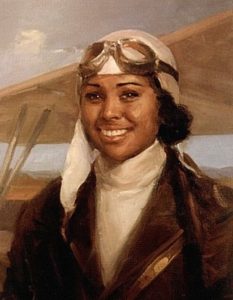 info@soundviewmediapartners.com or simply choose from the options below:
For group screening prices, please inquire.
Looking for the consumer version? The DVD is available on Amazon https://amzn.to/2wHkTah
Or, if you prefer to stream/download: https://amzn.to/2qNUzYY
WATCH THE TRAILER